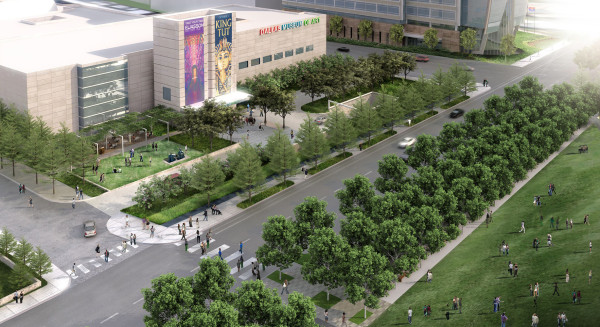 The Dallas Museum of Art (DMA) announced yesterday that Jennifer and John Eagle have donated $3 million to the DMA for the renovation of the Museum's North Entrance. John Eagle, a car dealer, served until recently as president of the museum's board. The Hamon Charitable Foundation has given an additional gift of $1.3 million for the project, for a total contribution of $4.3 million. The North Entrance, to be renamed Eagle Family Plaza, will be designed by Dallas-based landscape architectural firms Studio Outside and Hocker Design Group, with a new freestanding food service building and interior renovations to the DMA's cafe designed by local architectural firm Morrison Dilworth + Walls.
The project is designed to create a more flexible entrance for vehicles and pedestrians and will include an outdoor dining terrace extending from the interior café. Adjacent to this, a new lawn will serve as space for a rotating series of sculptures. The first commissioned work for it will be a site-specific sculpture by British artist Rebecca Warren.
Construction will begin in August 2015 with a proposed opening in spring 2016.
(Image via Hocker Design Group)