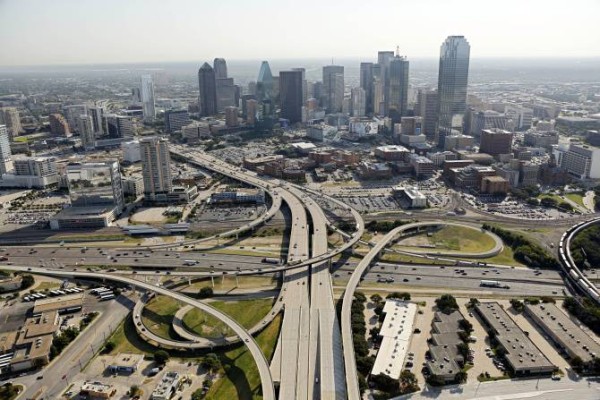 Please note: This piece was originally written for another, general-interest publication. I have not tweaked it for Glasstire.
As a shockingly green arts editor in early 1997 I was 100% certain Dallas was not an art city—an art destination—but that there was a noble, struggling local scene here and it deserved coverage. Back then, most all of the (so-called) significant shows in museums and galleries were imported, and local artists felt the gap between the establishment's aspirational perception of Dallas and their own, trench-based reality.
In 2015 as an arts editor—after stints as gallery owner and curator—I'm 80% sure that Dallas is still not an art destination and doesn't quite deserve the frequency with which it appears in the travel sections of other cities' magazines and newspapers. My husband has friends abroad who regularly send him links to one story or another from one of London's numerous broadsheets extolling the art-centric virtues of the New and Improved Dallas. These travel essays usually focus on the names of the starchitects whose buildings line Flora Street, plus the new Calatrava bridge, Klyde Warren Park, and of course, the old stalwart Northpark Center.
It is a better Dallas, in that it's a bigger Dallas (County) by give-or-take half a million people, and bigger makes for a better ecosystem for the business of visual art, from the top players to bottom. By sheer force of recession-resistant wealth, Dallas has pushed itself into the consciousness of the world especially with the Arts District, but also the ever-growing networking and reputations of the Nasher Sculture Center, the DMA/Rachofsky's annual TWO x TWO gala, the Dallas Art Fair, the re-made Dallas Contemporary, and the MTV/Goss Redefine auction. While the work of local artists infiltrate these spaces and events to some degree, the high-profile attention is most often reserved, still, for imported artists and market-proven work.
(The incessant party atmosphere that defines some of the aforementioned entities has long been associated with Dallas, but as the rest of the international art world devolves into pure entertainment, one could say Dallas' sensibility and that of the international scene are simply meeting in the middle.)
None of which signals the end of civilization, of course. Along with all the internationally visible growth is the growth of the population of artists on the ground. Now, instead of the two or four scrappy local scenes of 1997, there are at least a dozen bonafide cliques (sometimes overlapping) made up of artists who have developed sophisticated ways of making and showing work through the growing strength of the region's various university art programs (UNT doesn't hold all the cards anymore), or through travel experience, or brought back with them from MFA programs in other cities. And the weird democratizing influence of the internet and social networking has given them their own strata of recognition as a kind of new fly zone, one driven by a digital revolution.
The gallery scene itself has ebbed and flowed in these past 18 years—we've seen some very good ones come and go and held on to a few and gained some promising ones lately—but where once galleries were the major source of identity and validation for local artists, now the artists are maneuvering alongside gallerists to find their audiences. Instead of the area around Cedar Springs/Fairmount being the center for seeing and buying art as it was in the mid '90s, the current spaces to gather, talk and spend money around art have been extended as much by artists themselves as any other force (and away from uptown entirely by the way) out into the dominant Design District as well as the Cedars, Fair Park, Deep Ellum, Bishop Arts, Trinity Groves, Peak and Haskell, downtown proper, and of course, the Arts District. Arlington and Richardson have some odd traction too, and also the far end of the Design District heading into—what?—old industrial Irving. Saturday jaunts aren't so easy to map out anymore. I haven't even started on Fort Worth or Denton.
At this rate, in another 18 years' time, expect the combined energies of local artists, galleries, and establishment forces to turn Dallas into Los Angeles circa 2015. Why not? Los Angeles is the proof that a sprawling American city that isn't New York does deserve the devotion of whole travel sections in any London paper. Not that we should care about that now or will care about it then. Let's check back in again in 2033, shall we?