Via the Amarillo Globe-News, Stanley Marsh 3, the "merry prankster and eccentric multimillionaire" died Tuesday, according to Marsh family attorneys. He was 76.
For years he was best known as an unapologetic and energetic media tycoon, an Amarillo fixture who commissioned the California-based art collective Ant Farm to build the famed Cadillac Ranch west of the city in 1974, and masterminded a host of other brash and unlikely (for a Texas panhandle city) art installations in and around the area.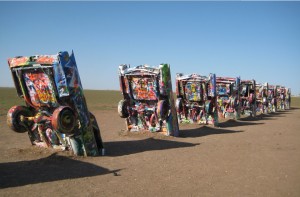 In recent years, he'd become known as a man fighting myriad charges of child sex abuse, some of them dating back to the 1990s as he oversaw a long-running art project called The Dynamite Museum, which employed mainly teenage boys to create artworks in his business offices and around town. For more coverage on Marsh's life and the civil and criminal cases surrounding him, go here and here.