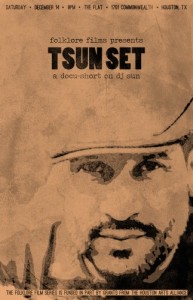 Houston art lovers who don't hang out at hip nightclubs have probably still experienced the sounds of Andre Sam-Sin, known as DJ Sun of Soular Grooves. DJ Sun has been playing music around the city for over 20 years, often at art venues, including the Museum of Fine Arts' Mixed Media series and the Contemporary Arts Houston's Steel Lounge Underground (once a monthly event, now presented annually), among many others.
Now that DJ Sun has become managing partner of The Flat bar and lounge, that interaction with the visual arts scene will remain steady at his new home base (which its press release refers to as a "cultural institution"). He and business partner, Phil Marshall of Squad Car Media, have brought in Houston artist Lovie Olivia to give the place a new look and to serve as The Flat's official art curator. Olivia has been working for months to unify the design aesthetic and has already launched an exhibition including works by Houston artists such as Robert Hodge, Philip Pyle, and Patrick Turk.
Tonight, The Flat will be throwing a re-launch party from 7 pm-2 am with headliner DJ/producer/musical curator King Britt. But before the music, there will be a screening of the docu-short TSUN SET, a short film about DJ Sun's influence in Houston, created by Folklore Films. Folklore Films, whose motto is "Telling better stories to our city, about our city, through visual poetry," plans to create a number of docu-shorts of inspiring "mavens and do-gooders in the city" to premiere every last Saturday of the month through September, usually at The Flat.
If you can't make it to the re-launch celebration (which is bound to be mobbed), keep an eye out for Olivia's curated exhibitions and Folklore Films' monthly documentary series.