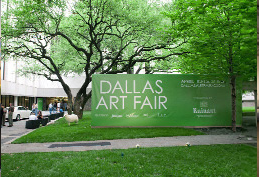 The fifth annual Dallas Art Fair will return to the Fashion Industry Gallery on April 11-14, 2013
This year's fair will showcase over 80 galleries, and kicks off on Thursday, April 11, with a preview gala benefiting the Dallas Contemporary, the Nasher Sculpture Center, and the Dallas Museum of Art. Admission to the less exclusive portions of the three-day event is $25 per person, per day or $50 for the whole weekend.
In conjunction with the main fair, Caja Dallas, "a real working and functioning art fair inside a non-for-profit institution, investigating, yet blurring the boundaries of all known art world systems" will be held at the Dallas Contemporary. Caja Dallas is a collaboration between the Dallas Art Fair and SEVEN,  a collective project organized by galleries including BravinLee programs, Pierogi, P·P·O·W, Postmasters Gallery, Ronald Feldman Fine Arts, Catharine Clark, and Inman Gallery.