The original "TRON" movie, PC gaming in the early '90s and the struggles of high school geometry came to mind when I first saw Houston artist Jonathan Leach's sleek-lined paintings and sculptures. Leach is just days away from his next solo show, opening at Gallery Sonja Roesch in Houston on February 28. When I visited him at his studio at Box 13, Leach was in the middle of a new series influenced by architecture, urban planning, Mondrian and Paul Klee.
I noticed an abrupt change in the newest painting facing Leach's plaid easy chair. It was full of negative space and small hard lines of saturated, but not intense, color. The shift is intriguing: "I felt that I had to amp everything up in [previous paintings] but now I'm playing with more subtlety, the white really kind of blew me away when I painted it; it's made with gesso, pearlescent, iridescent white, silver and gloss medium," Jonathan explained.
In Leach's newest painting, bands of color shift slightly from vermillion to soft fuchsia, with a new subtlety of composition. Sitting atop a small table in the studio are smaller works on graph paper done with colored pens. Oddly sparse, these new pieces are unexpected excursions from the bombastic neon color and flat backgrounds of previous works.
Leach's older paintings were very surface-oriented, akin to looking out of a subway window: Light illuminates the brick and mortar whizzing by, with all the visual information right in front of your nose. In this newer work, you start to see into the exoskeleton of Leach's paintings, entering them in a new and exciting way. Instead of watching the city whiz by, we become explorers into it.
Leach first became interested in architecture in Chicago—a cityscape full of brick and steel from Mies van der Rohe, Frank Lloyd Wright, and Philip Johnson, but Houston inspires his newest work: "I really got into architecture when I was in Chicago, and then moving to Houston where there was no zoning really makes the city a playground. I think what I like about Houston the most is the need to organize the city, but the patterns just keep dissolving."
"Dissolving" perfectly describes Leach's goal: "I wanted to be thoroughly confused by the end of [the painting]"—just like driving down Westheimer when you can't decide if you want to take the kids to Rainforest Café or abandon them for the steak buffet at Treasures strip club.
Leach is also exploring new territory in his sculptures. Still working with sheets of Plexiglas, he is now manipulating the shadow and light formed on the wall beneath and around the piece.
"I took a trip to Berlin this summer and that really influenced the new work," said Leach. The city is "like Super Mario Land" with above-ground pipes and wires, strange pathways of concrete and cobblestone and right-angled postwar architecture that looks pixelated from a distance. Having been to Berlin, (as confusing as Houston!) I completely understand.
Maybe the strongest influence Berlin has had on Leach is the level of exploration it takes to maneuver through a foreign city. The action of visually mapping and spatially sifting through a new landscape is what is most alluring about Leach's paintings and sculptures. Leach's investigation of abstraction relates not only to the ever-changing landscape of the city but also to the human desire for exploration.
Jonathan Leach lives in Houston with his wife Rachel Hooper, fellow Glasstire contributor, art historian and critic who is an Art History PhD candidate at Rice University. Jonathan and Rachel have a wonderful art collection that fills every wall of their home: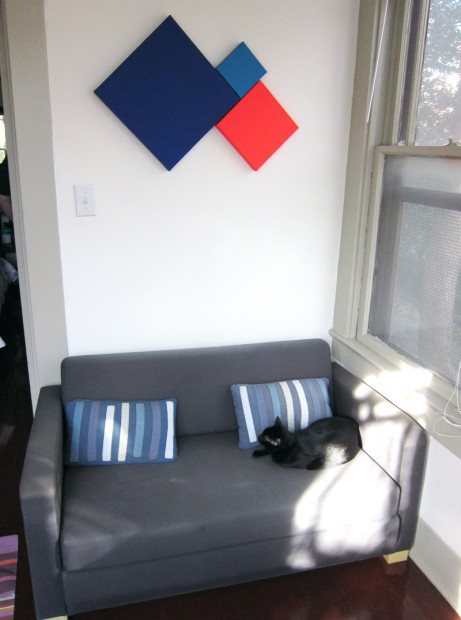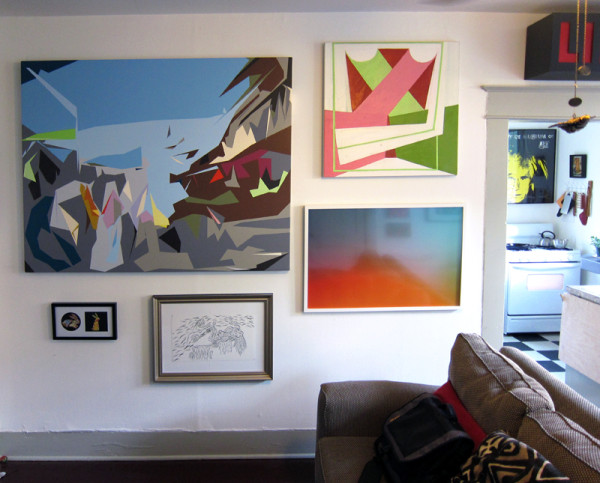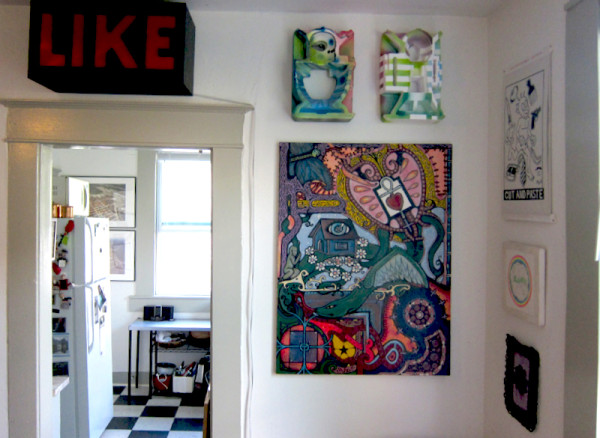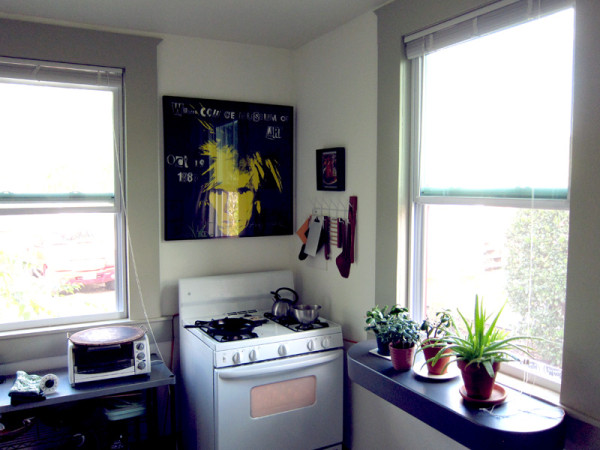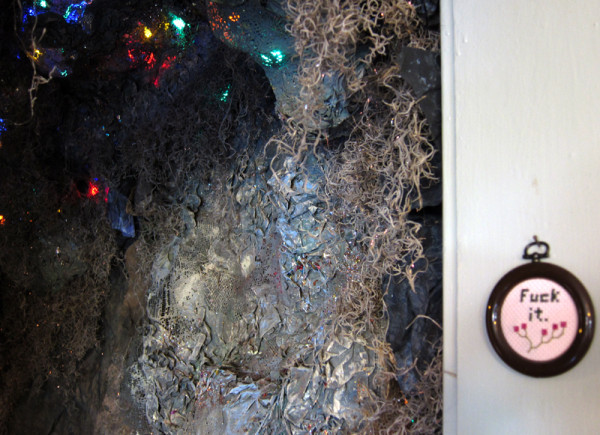 Thanks to both Jonathan Leach and Rachel Hooper for their generosity and warm welcome.