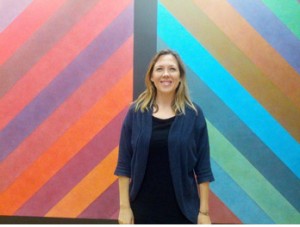 UT's Blanton Museum of Art has appointed Veronica Roberts as curator of modern and contemporary art. She is currently adjunct associate curator of contemporary art for the Indianapolis Museum of Art. Roberts will join the Blanton in February to oversee and develop the museum's modern and contemporary program.
Based in New York since 2005, Roberts worked at MOMA, where she curated Lee Bontecou: All Freedom in Every Sense, and co-organized Focus: Alexander Calder, and a gallery devoted to Mexican American modernism. She also worked at the Whitney Museum of American Art as special projects coordinator for the 2000 Sol LeWitt retrospective, which led to her becoming director of research for the Sol LeWitt Wall Drawing Catalogue Raisonné.
Most recently, Roberts guest-curated Stretching Painting for Galerie Lelong in New York and co-curated (RE)PURPOSE, the Parsons Fine Arts M.F.A. thesis exhibition. Her first exhibition at the Blanton will be on the artists Eva Hesse and Sol LeWitt and will be presented as part of the museum's 2014 season.
Roberts adds to the ongoing statewide museum hiring flood, joining recently hired Francesca Consagra, senior curator of prints and drawings, and European painting, and Ray Williams, director of education and academic affairs, as well as Annette DiMeo Carlozzi, now serving as Blanton curator at large, to further establish the museum nationally as a center for innovation and excellence in the arts.
The Blanton Museum of Art