Growing up in Austin, the Blanton was our reference during high school art history classes. Even spread across campus from the Harry Ransom Center to the Art Building, the collection was famous, approachable and I learned from it. I'm a UT Austin alum. I'm also a Blanton Museum alum. I was with the institution between the winter of 2008 and the fall of 2010. I have witnessed the museum go through its ups and downs, directors, interim directors, staff, interns, etc.
The Blanton has powered through its hiccups, from opening a new building and the complications that come with that, to the roller coaster ride of new directorship. But it has continued to be a leader in the visual arts, building collections and reaching out to the university and city that it serves. Now, as the Blanton enters its 50th year, the commemorative spirit and university pride that have swept over the institution are evident in its current exhibition: Through the Eyes of Texas: Masterworks from Alumni Collections. I really could not have anticipated the amount of sheer and overwhelming pride that I felt walking into the exhibition. To see what alums had collected, to witness the financial contributions of alums to artists' lives, and to see it all taking center stage in the galleries made me a proud longhorn.
I was thrilled when Simone Wicha stepped into the position of executive director, and have long admired the work of curator Annette DiMeo Carlozzi. Recently I had an incredible opportunity to talk to them about this enormous and beautiful exhibition.
Leslie Moody Castro: I guess my first question is really, how? How did this all come about, what was the process? Group shows are logistically difficult, but this is a whole other level of organization.
Simone Wicha: It took a village. Several of us spent months researching and asking many questions to track down alumni collections that were new to us and the hard work, of course, paid off. We have organized one of the most comprehensive and impressive exhibitions in our 50-year history.
Annette DiMeo Carlozzi: Simone had always wanted to investigate alumni collections. When she assumed the position of Blanton director and we began brainstorming programs for the upcoming 50th anniversary year, the concept seemed the perfect way to address the past, present and future simultaneously and in a fresh way.
It was all about the research process in the beginning. The first huge task was identifying and finding the alums that had collected art, though the University hadn't tracked that type of information; we started with our existing relationships with alumni collectors—with Blanton council members Judy and Charles Tate, Jeanne and Mickey Klein and Meredith and Cornelia Long, whom we already knew had impressive collections. We asked them, and all of our council members, who they knew with serious art collections and checked those names against the database of former UT students. The database was a trove of information; I read through lists of thousands of alums from UT—and contacted those I recognized as collectors or professionals in the field. We compared lists of boards of directors from arts institutions in the state and beyond with the database and found a number of collectors that way. Supporters hosted parties for us to meet other alums, and we consulted Texas-based colleagues to see if they knew of collecting alums. By the way, "alumni" is a very elastic word—it doesn't mean someone who graduated; but someone who attended, so the research pool was quite significant—it's a huge school!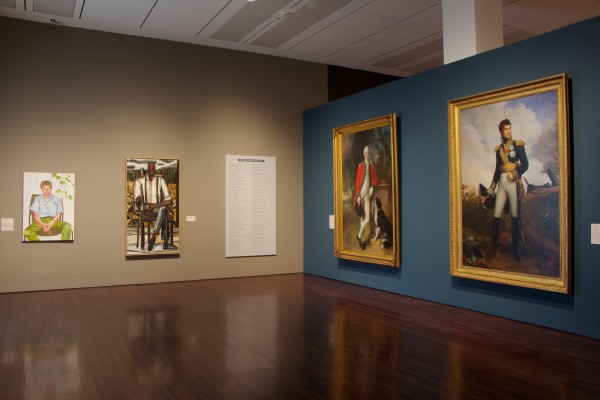 LMC: What was the driving force behind such a huge endeavor?
SW: Our collection is strong within focused areas, and an exhibition like this allows us to bring greater range to the museum. For me, this exhibition, with its great range and quality, is a vision of where the Blanton can go. Showing the reach of the University was also really important. Our motto at UT is "what starts here changes the world," and that's so true. Graduates from this university go on to impact the world in their respective fields. I wanted to highlight how many of them have also gone on to play leadership roles in the arts. And underlying all of it was a desire to provide visitors with an exhibition that was thought provoking and visually arresting. Luckily, through the generosity of the alumni and the caliber of work we found—a wonderful mix of genres, medium and centuries—we were able to do that.
LMC: The other really impressive thing about the show is that it really highlights collectors and collecting.
SW: Yes. We absolutely wanted to highlight not just these masterworks, but also the stories of their acquisition and the collectors behind them. Many University of Texas alums are actively supporting artists and museums in their communities in ways that really shape the cultural landscape of this country. Spotlighting these stewards, people that not only love their alma matter, but have gone on to support the arts and artists was something that we wanted to highlight. In the process, I hope we are showing students that this relationship of patronage is extremely important.
ADC: So in order to illustrate these connections in the galleries, we created several, overlapping layers of museum interpretation. The first is the audio guide, on which collectors talk about their motivations and attachments to their works. And faculty members from across campus speak about how excited they are to have these works here this semester, what they know about them and what they want to share with their classes. And our own curators and educators speak passionately from their different perspectives on the works. Also, the wall labels are different: The collectors' names actually appear first on the labels, to answer viewer curiosity about who owns what; and a group of about a dozen of us—curators, educators, graduate students, some guest writers—wrote extended labels for almost half of the works, especially those of periods or genres that the Blanton doesn't usually show. And the illustrated catalog comes out later this month!
LMC: Then how did you decide to integrate the historical with the modern and contemporary works?
SW: The range of works provided an element of freedom with this show that you don't necessarily get with others. We were able to create unprecedented pairings—a second-century Roman bust with Janine Antoni's Lick and Lather, for example—giving visitors a chance to consider things in completely new ways. I have to commend Annette for fitting the pieces together so beautifully, because that's what I wanted, a visually arresting showing that would make visitors really stop and look at the work.
ADC:
I think we learned a lesson when we opened the current building in 2006. When Gabriel Pérez-Barreiro, our Latin American curator at the time, and I were laying out the
America/Americas
project—the integration of our North and South American collections—we learned that building visual relationships among and between disparate works of art could provide more compelling connections for our visitors than chronological comparisons might. Especially if there is not an even historical continuum. That was certainly the case with this vast assortment of works—we saw 3,000 works of art, then whittled it down to 400, then 300, then finally culled it down to 200 by building pairs and small groupings that would talk to each other on the wall. I wanted the show to suggest the experience of going into someone's home and seeing their treasures displayed in the quirky and playful way that is more typical of domestic hangings.
LMC: What were some of the surprises that came up during the process?
ADC: There were surprises in how things worked together for sure. One is the Laura Lark and the way it plays off the two works from Thomas Struth's Paradise series, especially the Brazilian jungle image—each traces tangled webs, each plays with depth and surface in complex ways. Or the samurai helmet and the Tom Lea drawing of a Spanish conquistador, and their equivalent facial hair and hard, glossy forms. Those were pure serendipity more than anything else. But, you see visual linkages over and over again in the galleries, and get to enjoy the effects that result from putting dissimilar things together and immediately making associative connections…
LMC: Happy accidents.
ADC: Happy accidents. It helps make the argument for why there are so many more affinities in the world than differences, and reinforces a way of being open to the world that I think art can help prompt and clarify.
LMC: Do you think this is a moment where the Blanton can also look at all the collections in general and start putting them together a few more times? How will this change collecting practices at the Blanton?
SW: Absolutely. This show really proves what we can do, and will certainly shape our future collecting practices. Our priority has always been to have a first-rate collection that the university can use, students can enjoy and that the city of Austin can access, because we are the main museum with a collection in the city. We can make that happen. I see this being the direction that we can go with our collection, regardless of whether we are gifted work by alums or acquire them in other ways. You know, the Blanton has never had an endowment for acquisitions, so perhaps this exhibition will illuminate how important it is to support cultural institutions. This endeavor has shown us what our reach is, what we can do as far as building a compelling exhibition and has served as an excellent point of departure as we continue to plan for future programs and acquisitions.