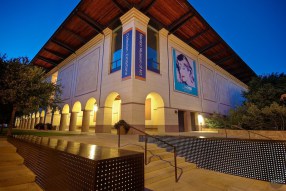 The Blanton Museum of Art at The University of Texas at Austin has been awarded a $504,000 grant from the Andrew W. Mellon Foundation to establish a curatorial fellowship program for a six-year period. Mellon Fellows will work with Blanton curators, educators, and other key staff on all aspects of exhibition and collection activities. "The Mellon Fellowships present a unique opportunity for both the Blanton and the Art History doctoral program to create something greater than the sum of their parts," said Jack Risley, chair of the Department of Art and Art History.
The Mellon Fellowships will be one academic year in length and awarded through a competitive process to current and incoming Ph.D. students in UT's art history program. Three positions will be offered per year, one in each of the Blanton's core collection areas: Prints and Drawings, and European Paintings; Modern and Contemporary Art; and Latin American Art. All Mellon Fellows will develop a project that grows out of their work at the Blanton, which could include a gallery installation, electronic publication, catalogue essay, interpretive brochure, or other resources for University and community audiences.
To provide further training for Mellon Fellows, the Blanton will create a multidisciplinary professional development seminar focusing on a variety of topics relevant to both curatorial practice and museum operations. Fellows will also receive travel stipends to attend at least one conference or symposium, or to accompany Blanton curators on research and planning trips.