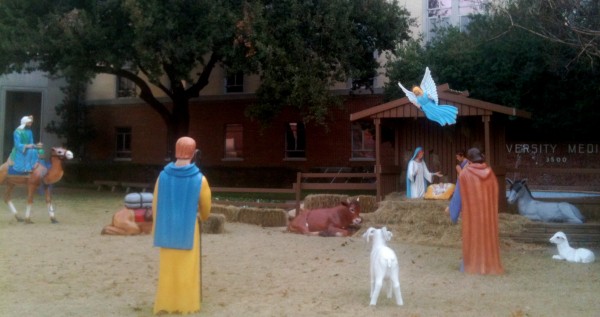 Merry Christmas! The holiday hoopla is drawing to a close and decorations will soon be coming down. This means I will soon drive down Gaston Avenue to discover that my favorite annual assault on visual culture will disappear for another eleven months.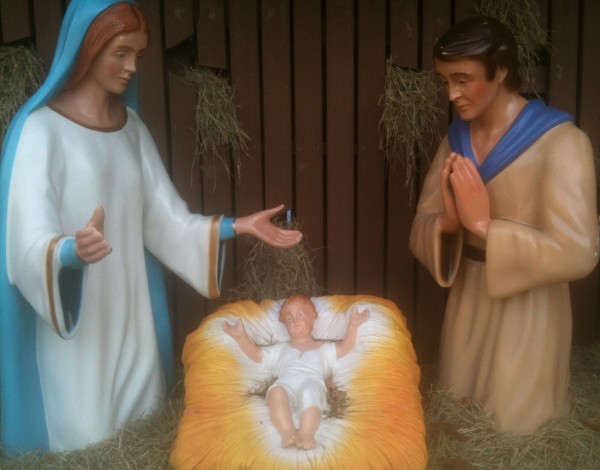 This, my friends, is the life-sized, plastic nativity on the front lawn of Baylor University Medical Center at Dallas. Nothing alleviates seasonal affective disorder like the sight of a wise man in day-glo pink.

Mary is kind of large (from an art historical perspective, one is reminded of Michelangelo's Pieta). One camel carries Samsonite luggage and both camels, I swear to you, are smiling. The whole thing screams of the seventies but could go back a decade or two more, and weirdly, none of it looked weathered, just shiny and new and wearing too much blush.
I wondered if this was the most awesomely terrible nativity scene in all of Texas, so I Google image searched "nativity scenes Texas" to find out. There are a lot of living nativity scenes of mixed result – live sheep go a long way toward verisimilitude, no doubt about it. That same Google search offered a publicity photo of Andrew Garfield as Spiderman. I didn't stop to investigate.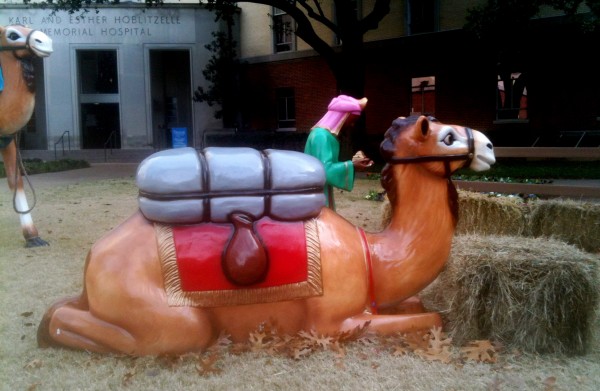 The only nativity that can really compare to Baylor's day-glo triumph is in Athens. That scene is at the center of a small town holy war, but I'm more interested in it because the Mary, Joseph, and angel figures are complete hotties – the angel looks like a Victoria's Secret angel instead of a tree topper. I am amazed the donkey does not have wings.
Be safe and don't discuss politics with the family.
This blog is Don't Look. Okay Look.
Betsy Lewis is a Dallas writer with the unfortunate birthday of December 29th, making her a lifelong hater of holidays.