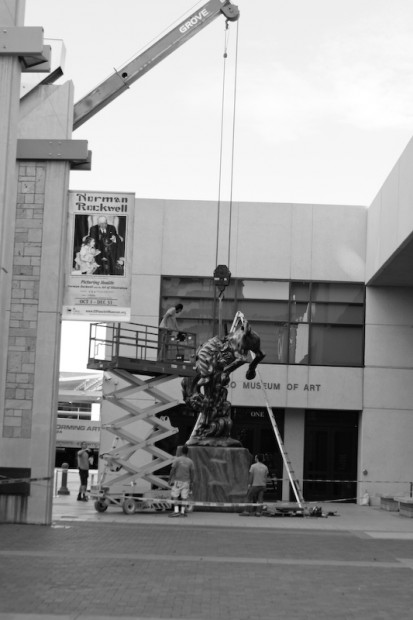 Perhaps Luis Jimenez's most famous work, Vaquero, is riding into the sunset. On loan from collector and fiberglass fabricator Frank Ribelin, the monumental fiberglass statue of a pistol-packing cowboy has stood in front of the El Paso museum of Art Since 1998 has gone to a permanent home at the Crystal Bridges Museum of Art in Bentonville, Arkansas.
One of five Vaqueros Jimenez made in the 1980's, El Paso's copy was much beloved; others are in Houston's Moody Park (moved from Tranquility Park next to city hall after controvery over the piece's depiction of Mexicans and guns) and in front of the entrance to the Smithsonian American Art Museum in Washington D.C.
Crystal Bridges Director Don Bacigalupi, who, like Jimenez, worked at the University of Houston in the 90's, called the sculptor "one of the most important Latino artists of the 20th century." The what the wealthy Wal-Mart Museum paid for the piece was undisclosed, but experts value it between $500,000 to $1 million.