With last weekend scrapped by the Labor Day holiday, the weekend of September 5-6-7, 2014 had to do double-duty for gallery openings; and with the fall art season cranking up, tasty new shows and events beckoned from every side like the nozzles at a frozen yogurt bar — the gummy worms on top were the 56 booths at this years' early edition of the Texas Contemporary Art Fair.
I spent a lot of time cycling people around the fair in the Glasstire Pedicab, and probably saw more art more often than any art fair I've ever attended. After the 7th circuit, some things begin to stick in your mind, after the 17th, many of them fade out again, replaced by generalizations which cover 90% of any art fair's offerings.
Hop in the back, it's free!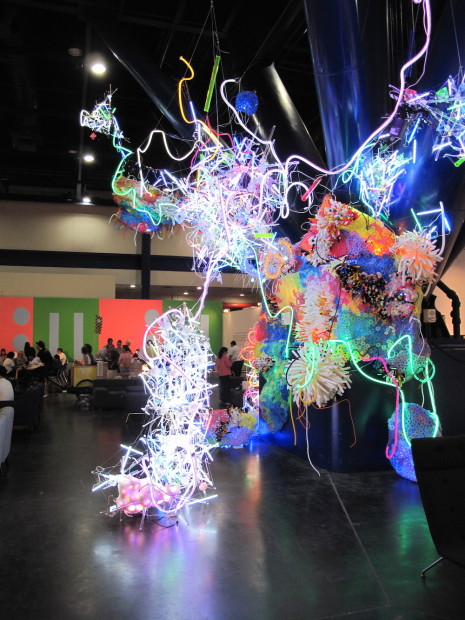 Anya Tish brought Adela Andea's crowd-pleasing light-up sculptures to the fair. Their gimmicky complexity is merely faddish as art, but her large column-climbing piece in the fairs' lounge area was a superlative piece of decor.
Aside from Andea's illuminated coral reef, the fair's special projects, which can make events like this worthwhile from an art-lovers' standpoint, were pathetic. Mac Whitney's two welded pieces at the entrance were dwarfed by the enormous hall; Rodrigo Valenzuela's kiosk-like installation to the left, was desperately arty, and far less interesting than his photographic representations of similar set-ups in Upfor Gallery's booth. Iva Kinnaird's hand painted fair map was sweet, but amateurish. Anne Deleporte's Sonotube collage, Paul Fleming's grid of resin lozenges, and Catherine Lee's ceramics were merely obstacles to be avoided while cruising the main concourse. Sometimes it doesn't pay to be a careful driver: if I'd bumped my cab into any of these pieces, they would have been more interesting.
You can't tell from the picture above, but HUM, Barry Stone's 21-minute video, in his solo show at Art Palace's booth, had the hypnotic power of one of those illuminated mechanical waterfall pictures. Its combination of slow motion graphics and heavy-metal soundtrack really works: like pieces by Sam Taylor Wood, Bill Viola, and Jeremy Blake, Stone's video effectually bridges the viewing experience between film and still photography, in a way earlier video art, presented via ugly TVs on pedestals, or in eerie darkened projection rooms, never did.
Nathaniel Donnett's one-man show at Darke Gallery's booth was weak, a mish-mash of familiar black artist imagery and materials: kraft paper, shoe laces, trash bags, quilt-like collages of old clothing, expressing well-trodden racial identity issues without adding much. The hollow-point bullets in a candy vending machine and the "I'm the Only Black Person Here" t-shirts were just as obvious, but, as simple provocations, work better.
Dutton had a slow-art booth, worth getting off the bike to look at. Gloamy marshmallow-realism paintings by Dallas artist Marjorie Schwarz make you rub your eyes and take off your glasses hoping for a clearer view. Labor-intensive grooved wood panels by Josh Dihle, with embedded stones and teeth, had a Gauguin-in-Tahiti kookiness.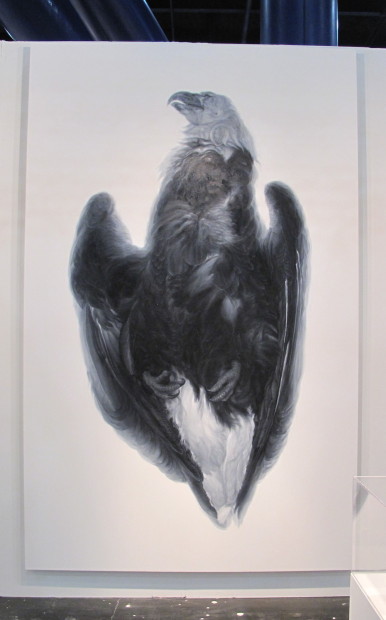 I thought Vincent Valdez's big dead bird at David Shelton Gallery was a vulture, until heard it was a bald eagle—they're not really so different. Alongside his fake folded funeral flag, it both respected and criticized American patriotism, and was a highlight of the fair.
Fredericks & Freiser returned from New York with a booth full of diverting Keegan McHargue paintings. McHargue's work won the $10,000 Art Fair prize last year. They had a bad spot, though, way at the fair's lower left corner, behind RH Gallery's spread.
I was rooting for the embattled RH Gallery — but I'm a contrarian. RH is a subsidiary of Restoration Hardware, a large corporation whose core business is high-end furnishings. They recently branched out into fine art, opened a four-story gallery in Chelsea, and are scaring the pants off traditional art dealers whose bread and butter is just the kind of bland abstract art RH gallery was offering. The hatred is intense: there are rumors that some other galleries threatened to pull out of the fair if RH was allowed to exhibit. Despite the infighting, their art was unremarkable— at one with 80% of the works on display at the fair, neither terrible schlock, nor very interesting, just overpriced home decor. I'm all for it— the sooner RH kills off other galleries touting this kind of dull filler, the sooner interesting galleries and artists will be the only ones left.
The hatred directed at RH really ought to go towards Birnam Wood Galleries, which easily won the "most contemptible schlock" award for his fair. The interior of their booth, filled with aimless imitations of contemporary art, was bad enough, but the outside was studded with these eye-grabbing portraits of celebrities under screens of plastic eyeglass lenses. It made me feel sorry for the exhibitors next door, who had to look at them all day.
Zoya Tommy Gallery from Houston had this wall of new Earl Staley paintings. A lot of Staley's prolific output is terrible. OK, ALL of it is terrible, and always has been, but Staley is famous for just that—for more than fifty years he's been putting down his varied interests on canvas with the boneheaded enthusiasm of a boy constructing model race-cars in his bedroom. With this new crop, Staley has hit a particularly good patch: the Philip Guston-in-Santa Fe surrealism borders on (and may borrow from) Aboriginal art's naive intensity. Truly, they look as if your kid could have done them, but I wish I had kids like this.
Kirk Hopper Fine Art had one of the better booths at the fair, with a flowery bearskin by Ann Wood, and these creepy collages by Luke Harnden, and some nice Roger Winter paintings.
In keeping with the fair's overall vibe of diminished expectations, Rice University Art Gallery, like Glasstire, scaled back on their booth this year. They were the powerhouse of the first Texas Contemporary Fair with Steve Keene's mass-market paintings. This time around they again reprised an old exhibition, bringing back Ana Serrano, who presented a cute, colorful paper and cardboard interior, with a selection of paper buildings and cakes for sale for $100 each.
Mustachioed Brian Gibb of The Public Trust was, along with Cris Worley and Kirk Hopper, one of three Dallas galleries to bravely venture south this year. He brought a slate of artists with a definite youth-culture slant, not like anything else in the fair: skateboards, a Duchamp BMX bicycle by Ryan Humphrey, hand painted underground comix-syle trading cards by Taro-Kun, and big silver spray paintings by William Binnie, founder of Dallas' Beefhaus gallery.
Although I'd say public interest has been as high as ever in attending the fair, with a  whopping crowd on the opening night, the fair seems to be dying out- the initial excitement among exhibitors that greeted its advent four years ago has receded into a realization that there's simply not enough money to be made. The fair's quality hasn't diminished — the percentage of absolute schlock is still quite small— but the fair has failed to attract many important galleries from out of town, making this a de-facto local affair. In one way that's good, because the Houston and Texas galleries are very definitely showing the most interesting work, but they don't need a fair for that.
Would-be fair promoters, this is your chance. I foresee an opening in the next decade for a locally-produced art fair, like Dallas has. Cheaper for exhibitors, edgier, more pro-actively local. A fair with the intense support of all sectors of the Houston art scene. One that would provide an occasion for people from elsewhere to visit (HOT Tax money, here we come!) and see all the great art that's happening here, not just the art  that commercial galleries can afford to promote. Keep it free from factional bickering, wide open to all comers, make it a great party, and we're in business.