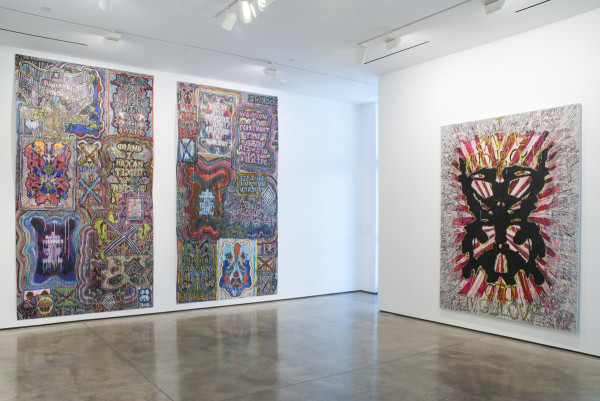 Alexandra Grant's Century of the Self is mesmerizing.
Walking into Lora Reynolds Gallery in the heart of downtown Austin, I didn't exactly know what to expect. I had seen Grant's work on the Internet but, as often happens, it did not do it justice. I visited the gallery on a breezy Austin day and was pleasantly surprised by what I found.
Curated by independent curator Sarah C. Bancroft, Grant's exhibition was inspired by the Adam Curtis BBC Four documentary series of the same name. Approaching it is almost overwhelming. Huge, exquisitely detailed canvases tower over the viewer. Each work is almost violently busy with color, patterns and text. There are some smaller, simpler works and even a floor installation made from recycled plastic, but they're all secondary to the larger works.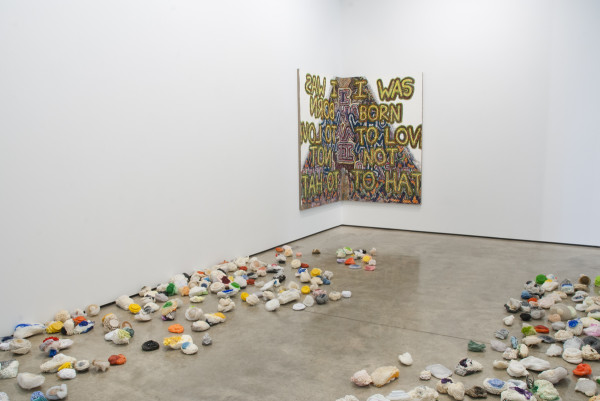 Grant's Century of the Self explores the idea of how we define ourselves to ourselves, and to others. The texts in the works are simple statements such as "I was born to love not to hate" and "To thine own self be true," drawn from a variety of literary sources including works from Sophocles, Audre Lorde and Sigmund Freud.
In the small exhibition space, the show quickly becomes a vibrant internal dialogue between the values Grant believes she's supposed to uphold and the internal thoughts that may or may not contradict them. The viewer is just listening in. As I tried to deconstruct the works, they became more and more complex. The slew of layers in each work was very clear and it felt as though I was discovering a new piece of the artist with every word of text, new pattern or color I discovered.
Alexandra Grant's Century of the Self is on view at Lora Reynolds Gallery through March 15.