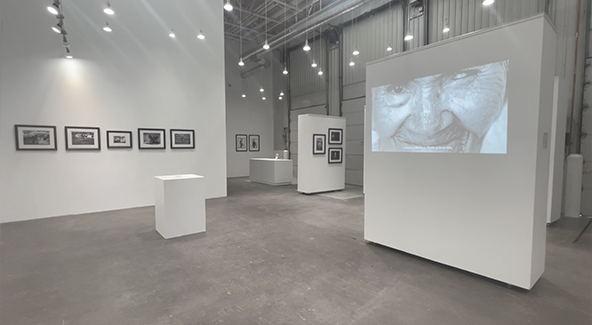 Note: the following is part of Glasstire's series of short videos, Five-Minute Tours, for which commercial galleries, museums, nonprofits and artist-run spaces across the state of Texas send us video walk-throughs of their current exhibitions. Let's get your show in front of an audience.
See other Five-Minute Tours here.
Roj Rodriguez: MI SANGRE at Monterroso Gallery at SAWYER YARDS, Houston. Dates: August 17 – September 2, 2023. And at CRIMSON, Houston. Dates: October 4 – November 2, 2023.
Via the gallery:
"Monterroso Gallery presents an exhibition of selected photographs featured in Roj Rodriguez's new book MI SANGRE. What started as a personal project to retrace his Mexican heritage became a photographic essay that documents Rodriguez's rediscovery and understanding of the Mexican culture on both sides of the US/Mexico Border. The result: A compelling collection of tradition and culture that boldly reveals the essence of 'mexicanidad'; the quality of being Mexican.
Selected images from Mi Sangre series have been acquired into the permanent collection of six museums in the U.S. MFA of Houston, San Antonio Museum of Art, La Plaza de Cultura y Artes (L.A.), National Museum of Mexican Art (Chicago), National Hispanic Cultura Center (Alburqueque, NM) and Wittliff Collections (San Marcos, TX). Numerous awards include the LUCIE International Awards, Photo District News and Prix de la Photographie Paris.
National icon Dolores Huerta describes the Mi Sangre collection this way: 'These images remind me of the people I've met during my life. Whether you recognize your own family, heritage, and people in the images in this collection or whether you view them with the curiosity of an outsider, I invite you to imagine the stories behind the pictures. The stories that humanize are the stories that unite and help us find the common ground that movements are built on. Common ground is what we desperately need today.'
Public leader and corporate executive Hon. Henry Cisneros describes Roj's ability to capture the 'essence of Mexico on a different path by focusing on its people.' He captures 'the soulful eyes, the wrinkles of experience, the clear skin of youth, textured mustaches, weathered hands, contagious smiles, assertive faces, traditional dress, tell-tale hair, and bodies shaped by life.'