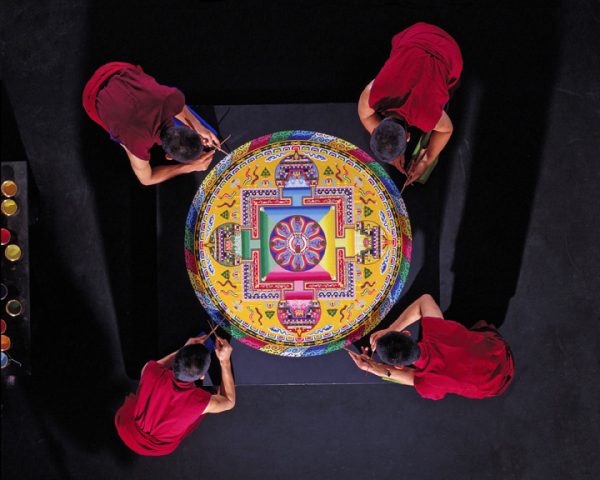 This week, beginning on Thursday, August 16th, Tibetan Buddhist monks from the Drepung Loseling Monastery, a center in Atlanta, Georgia dedicated to preserving Tibetan culture, will be creating a sand mandala at the Asia Society Texas Center in Houston. The monks have made their pilgrimage to Texas a regular occurrence in recent years — the group created mandalas at the Asia Society in the summers of 2016 and 2017, and in 2014 they constructed a mandala at the Crow Collection of Asian Art in Dallas.
The art of sand mandala painting has been around for hundreds of years. The pieces take days to create, with the monks meditatively and meticulously placing grains of colored sand onto a blueprint using chakpur, which are tapered metal hollow rods that can control the flow of sand. The resulting composition, after being on display, is then ceremonially consecrated and swept away, erasing the days of work put in by the monks.
The Drepung Loseling Monastery monks will be present at the Asia Society from August 16th through August 19th. If you can't make it or want to watch a real-time stream of the mandala's creation, you can view that on the Asia Society's website. If you're in Dallas, be on the lookout for the monks this fall at the Crow Collection. A full schedule of events is below.
Thursday, August 16th
Viewing Hours: 12-6PM
Opening Ceremony: 12PM
After consecrating the site through chanting and music, the monks draw the mandala's outline on a wooden platform, then begin to lay the colored sands using a metal funnel called a chakpur.
Friday, August 17th
Viewing Hours: 10AM – 6PM
Saturday, August 18th
Viewing Hours: 10AM – 6PM
Community Mandala: 12-4PM (while supplies last)
The whole community is invited to take part in the art by helping create a sand mandala. Guests will learn how to use the chakpur to fill in the design with sand.
TICKETED PERFORMANCES: Sacred Music Sacred Dance for World Healing
Matinee performance: 2 p.m. | Full-length performance: 7 p.m.
Following the last two years' sold-out concerts at Asia Society, the Drepung Loseling monks will perform ancient temple music and dance.
Sunday, August 19th
Viewing Hours: 10AM – 3PM
Closing Ceremony: 2PM
The monks will dismantle the mandala, sweeping up the sands to symbolize the impermanence of life. The sand will be distributed to the audience at the conclusion of the ceremony, while supplies last.