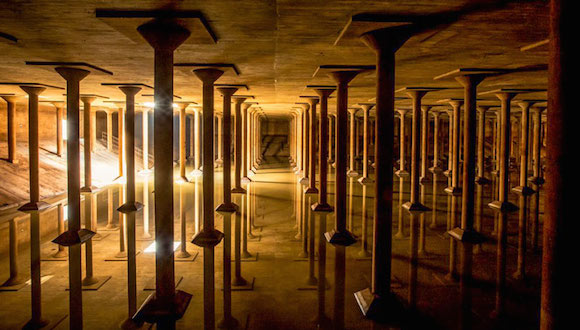 On Friday, May 13, Houston's recently reopened and all-but-forgotten underground cistern will open to the public. For those who have been itching to get into the cathedral-like space since photos started getting posted on the Internet a few years ago, it seemed like an imminent possibility when the Buffalo Bayou Partnership (BBP) sent out a call in March for college students to act as "Park Cistern Attendants" to give tours.
The Houston Chronicle interviewed architect Larry Speck, who said of the space, "It's going to be there for artists to do installations and it will provoke sound artists and it will provoke light artists. It will provoke any artist." Way back in the summer of 2013, consultant and project manager Guy Hagstette threw out the suggestion of using the cistern as a space for art installations and it seems to be coming true.
Visitors will most likely have to get in line, though, and reservations are required. Speck explains that tours will be limited to small groups in order to preserve "the serenity, the kind of contemplative magic."
For Lisa Gray's full Chronicle article and the video interview with Speck, go here. For information on visiting the cistern, go here.