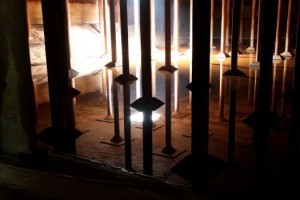 There have been a few incredible photos of what is now called the "Cistern" floating around this past year, but next week the Buffalo Bayou Partnership (BBP) and Architecture Center Houston will present an unprecedented view of the underground site—in 3-D, no less.
The Cistern, located behind the Jamail Skate Park on the banks of Buffalo Bayou right next to downtown Houston, was "discovered" during the ongoing development of the Buffalo Bayou Park. The site was originally the city's first underground drinking-water reservoir, built in 1927. The reservoir provided decades of service until it was drained when it sprang a leak that couldn't be located or contained; it was closed up and basically forgotten.
When BBP consultants recently lowered themselves into the hatch which led to the space, they were stunned. Consultant and project manager Guy Hagstette describes the visual experience:
They've drained it, but there's a little bit of water on the bottom, and that reflects and tends to double the perceived height of the space because of the reflections. And it's unlike just about any space I've ever been in.
The site, often referred to as a cross between a cavern and a cathedral, is still not accessible to the public, but Houston-based SmartGeoMetrics was brought in to create 3D imaging. Hagstette and Douglas Smith, Vice President of SmartGeoMetrics, will present the images and discuss the project, followed by a Q&A.
The Cistern was not discovered until after the park's budget was finalized, so now there are all sorts of ideas being suggested, ranging from the minimalist "do no harm" to the extremes of the commercially crass. Hagstette threw out his own cool suggestion: "We think that a really talented artist—especially artists who work in sound and light and taking advantage of natural phenomena—could really do some amazing stuff down here."
The presentation will take place next Thursday evening at the Architecture Center Houston.