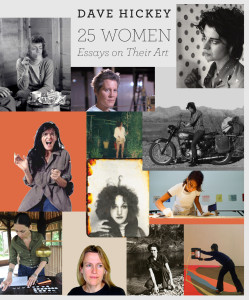 Today the San Antonio Book Festival is hosting a conversation between art critic (and sometimes Glasstire contributor) Dave Hickey and art historian Frances Colpitt. Hickey will discuss his new book, 25 Women: Essays on Their Art (read reviews of it in the New York Times and Hyperallergic). The talk is moderated by Colpitt, the chair of art History at TCU in Fort Worth.
If you can't make it to the talk, go here to listen to two podcasts featuring lectures by Colpitt, and go here to hear Hickey "diss Glasstire, Texas, Houston, stupid liberals, Rice University, and question why art should be popular." Hickey has two other new books out in addition to 25 Women: Wasted Words is a 586-page behemoth chronicling his Facebook adventures, and Dust Bunnies is a collection of Hickey aphorisms.
For more info on the talk, which will take place today, April 2, at 11 a.m. in the Santikos Building of the Southwest School of Art, go here.