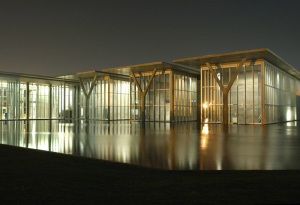 The Modern Art Museum of Fort Worth has recently announced this fall's Tuesday Evenings at the Modern lecture series. This year's lineup includes poets, curators, artists, and more. Additionally, in December, there will be a special program where Sally Mann will present her recent book Hold Still.
Other lectures in the series include:
September 29 – LaTasha N. Nevada Diggs, a poet and sound artist
October 6 – Andria Hickey, Curator at the Public Art Fund in New York City
October 13 – A screening of the film Sans Soleil by filmmaker Chris Marker
October 20 – Randy Brown from Randy Brown Architects
October 27 – Charles Gaines, a Los Angeles-based artist and professor at California Institute of the Arts
November 3 – Valerie Hegarty, a Brooklyn-based artist
November 10 – Lauren Woods, a conceptual artist
All lectures are free and open to the public. For more information, go here.