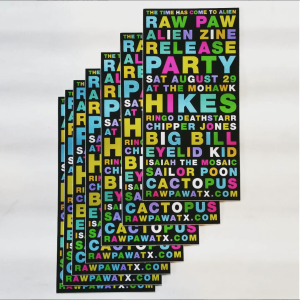 Raw Paw, the multi-tasking Austin collective (est.  2010), might be best known for its zine, which commissions and collects original works by Austin-based artists. Raw Paw is releasing its sixth volume tomorrow night at the Mohawk.
Raw Paw Vol. 6:: Alien compiles work by a wealth of Austin creative people, including, according to its website:
39 visual artists • 24 writers • 22 musicians
114 pages of offset printed beauty with vellum inserts, a minizine, and a die cut cover. 
Oh yea, and a 22-song mixtape!!!!  
The release party, which is open to anyone but will charge a reasonable cover, will feature a lot of bands, including Hikes, Ringo Deathstarr, and Big Bill.
Here's Raw Paw's list of visual art contributors to this volume:
• Ajay Malghan • Rachel Long • Justin Van Vliet • Kevin Kurecki • Kevin McNamee-Tweed • Rachelle Diaz • Chris Wright Evans • Brittany Laurent • Alison Whitworth • Alex Diamond • Ekta • Alex Webb • Jinni J • Jules Buck Jones • Chris Long • Connor Shea • Peter Shear • Erin Smego • Lyndsey Smith • Dylan Sutton • Chris Varnum • Ben Aqua • Cameron Coffman • Andrew Cooke • Ryan Davis • James Flames • Ryan Francisco • Daniel Kliewer •Manik Raj Nakra • Simon Landrein • Kameron Richie • Andrew Riggins • Caroline Ruffault • Yamel Thompson • Stephen Fishman • Nick Gregg • Kyle Carter • Jessi Brattengeier
For more info, please go here.