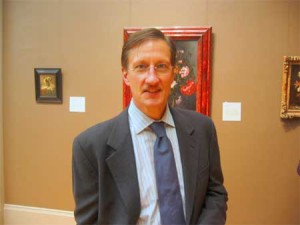 Walter Liedtke, longtime curator of European paintings at the Metropolitan Museum of Art, was one of six victims of the crash of a commuter train in suburban New York City on Tuesday night, reports the New York Times. The Met's director, Thomas P. Campbell told the Times that "he was one of our most esteemed curators and one of the most distinguished scholars of Dutch and Flemish painting in the world."
Liedtke earned his master's degree at Brown and a doctorate at the Courtauld Institute of Art in London, and intended to be a teacher. He spent four years on the faculty at Ohio State but, in 1979, he received a Mellon Fellowship to study at the Metropolitan Museum, and ended up staying for 35 years.
CULTUREGRRL (Lee Rosenbaum) wrote of the loss in her ArtsJournal blog yesterday: "I've attended hundreds of museum press previews over the past four decades, but the ones I relished most were those where Walter Liedtke was our erudite, entertainingly witty host."
In the online series 82nd and Fifth, produced by the Met, Liedtke discusses Rembrandt's Aristotle With a Bust of Homer (1653) in a 2013 episode, explaining, "We see Aristotle in his late years and he's thinking, 'Will I be remembered like I remember Homer? Material things, honor, fame—so what? Did I say anything important?" Over the years, Liedtke organized dozens of major exhibitions for the Met. Liedtke was 69 years old.
(Photo: Gary Schwartz)