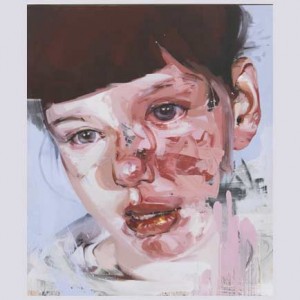 Popped into the Oxford Modern Art Museum to see some of Jenny Saville's paintings in person- they're based on photographs, so in reproduction you miss her somewhat annoyingly self-conscious painterly virtuosity. She's very good at what she does, too good: large, in-your-face slabs of discolored, bruised and embalmed flesh, which, as you step away, are recognizable as women: abused and vulnerable meatburgers. But Saville lays it on too thick for my taste. My favorites are the most understated, which admit more nuanced interpretations as memento mori, or admiration for their technique (who knew you could use pasty cranberry for that?) or add to your resolve to lose weight, or lead to a sense of solidarity (!) with other ugly people, especially when you're on your way to the south of France, where, judging by people you see crowding the beaches and the romantic narrow streets of sun-drenched villages, has passed laws against us.
Which leads me to a critique of the Olympic Opening Ceremonies last night, which I watched in their entirety. Of course they were kitschy, hodgepodge,  etc. YOU try creating a show that embodies national pride (without seeming boastful), is all-inclusive (but only an hour long), popular (but not commercial), and sumptuous (with a fraction of Chinese budget, and a volunteer cast), all of which has to be rainproof.
It's better to ask what the producers managed to salvage from such a train wreck assignment. The focus of the program was in large part on Britain as a media exporter; long segments on children's literature, movies, and music made a case for Britain as the information capital of a new meta-empire, with Tim Bernars-Lee, originator of the internet, as emperor. As an English-speaking American I felt a little tear of pride as co-conspirator.