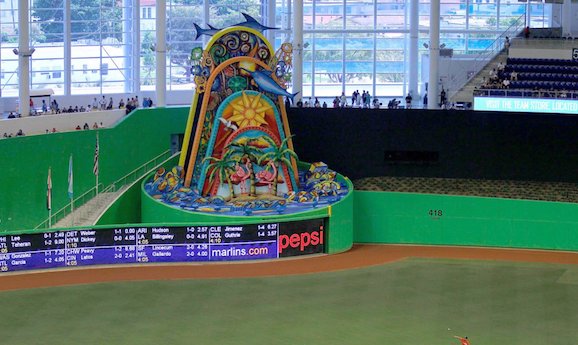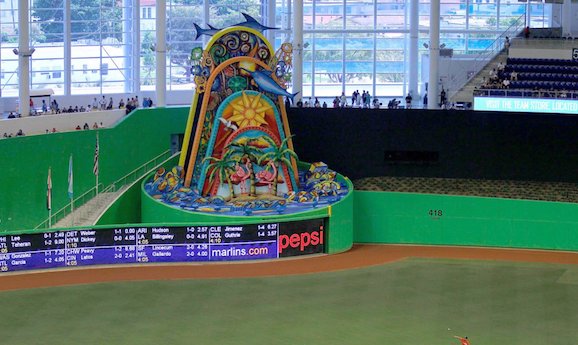 Derek Jeter, famed former Yankee shortstop, is a new owner of the Miami Marlins, and one of his first priorities is to get rid of Red Grooms' big kinetic stadium installation which celebrates Marlin home runs at Marlins Park.
Grooms' piece, a big sculpture installed at left center field since 2012, is 73 tall, and was commissioned by Miami-Dade County, which maintains ownership of the piece. Per Artnet News: "When a member of the Florida Marlins hits a home run, the work comes to life in a carnivalesque spectacle of flashing lights and bright colors. Mechanized marlins and flamingos whir, as 30 gallons of water shoot into the air." As far as the county is concerned, "It was designed specifically for this project and location and is permanently installed. It is not movable."
In Miami, as in other cities across the US, a small percentage of new construction is mandated toward purchasing or commissioning artwork (in Miami's case, 1.5%), which has also contributed to other artworks in the stadium. Grooms claims his piece was inspired by Miami's art-deco aesthetic, and has no problem with people finding his installation a bit over-the-top. By all accounts, the piece was met with resistance upon its installation, and yet since then seems to have won over local audiences. (This was certainly true of both the Eiffel Tower and the London Eye. It just takes time.)
Via Artnet:
"Said sculpture is objectively a national treasure and should obviously be granted the legal protections that accompany landmark status," insisted CBS Sports, while Sports Illustrated contributed this impassioned plea:
To get rid of the home run sculpture—or, as it's informally known, the Miami Dinger Machine—would be heartless and cruel. Marlins Park is many things: a hideous ripoff of Miami-Dade taxpayers; a spaceship-looking piece of weirdness plopped into the middle of a residential area; and usually empty. But the stadium is also a brilliant distillation of all things Miami: It's garish, overpriced, air conditioned to the point of becoming a meat freezer, and disdained by the locals. And the home run sculpture is a perfect symbol for that park, looking as it does like one of Lisa Frank's more out-there nightmares.
For more, go here.
Here is the Miami Dinger Machine in action: