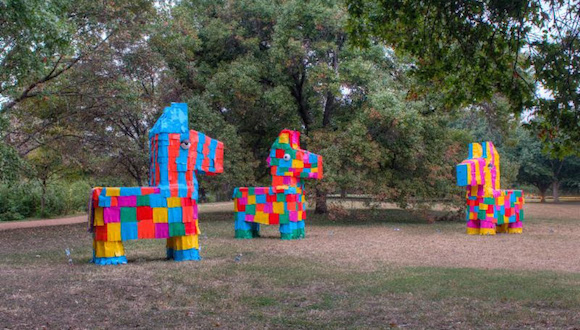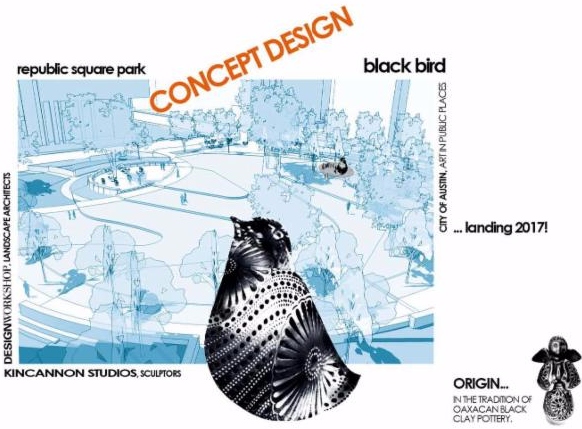 Austin Art in Public Places, the city of Austin's public arts program, recently announced their newest public art commission for Republic Square Park. The work, titled Black Bird, is the project of Austin-based artists Joseph and Holly Kincannon of Kincannon Studios, and will be a large sculpture of a bird carved from Texas Cordova Cream limestone and coated with a buffed black lacquer finish. Surface patterning on the sculpture will draw from Oaxacan-style pottery, and the bird's tail will be cast bronze with a black patina finish. Black Bird is made possible through the park's $5.8 million renovation and beautification project.
In other Austin Art in Public Places news, two of the organization's projects have been nominated for an Austin Critics' Table Awards, which is an "annual recognition of achievement in the arts selected by writers from the Austin American Statesman and Austin Chronicle." Austin Art in Public Places nominated projects are:
For Independent or Public Art Project: Omission by Juan Deleon and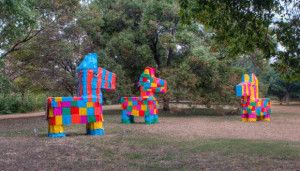 Las Piñatas by David Goujon.
The winners of the Austin Critics' Table Awards will be announced at a free ceremony on May 23 at 7PM, at Cap City Comedy Club. To see the full list of awards and nominations, including Best Group Exhibitionm Best Solo Exhibition, and more, go here. Keep up the good work, Austin!