I just got wind that Kenny Goss has put his Dallas house on the market, and my immediate panicked thought was "But what about the gorilla?"
Goss is, of course, the sweet-natured owner/impresario of the Goss-Michael Foundation in Dallas, which has since its inception eight years ago focused mainly on collecting and showcasing British art. The collection has spilled over into Goss' Highland Park house all along, and during the many parties he's thrown there that I've attended, the highlight for me was checking out what he'd installed inside and out. A Don Brown here, a Bridget Riley there. A Chapman brothers downstairs, a Sarah Lucas upstairs, and so on. There was some rotation.
But Angus Fairhurst's giant bronze gorilla, due to his size and weight, was always in his spot, at the rear of the back lawn in a semi-protected alcove. He faced the house and, of course, his own detached arm on the ground in front of him. And since I'm the kind of party goer who seeks out the owners' pets for company (I'm that person), the gorilla became my touchstone at the Goss house parties. It's called A Couple of Differences Between Thinking and Feeling, and was made in 2004. Fairhurst killed himself in 2008 at the age of 41.
I love Angus Fairhurst's work: his humor and absurdity and pathos dovetail beautifully in that gorilla. Much of what Fairhurst made feels, conceptually, both very light and very heavy, and there aren't many artists who can pull off that trick. Fairhurst used gorilla imagery—drawings, sculpture, video—throughout his career; it was his uncanny, mute mascot: his alter ego. Brute, other, majestic, pathetic, melancholy.
Side note: I've been in a lot of collectors' homes over the years in a lot of major cities, and Goss' circa-1940 understated Georgian-facade house is possibly my favorite in Texas in terms of feel and layout, at least in the sense of "I could live here." (If I were crazy rich I might opt to move it, brick by brick, to East Dallas, but that's just me.) John and Jennifer Eagle's house, by Edward Durell Stone, is up there, yes, because who wouldn't want to live inside a Peter Sellers movie, but Goss' house has a kind of Goldilocks just-rightness about it. (And I suspect the gorilla has something to do with my attachment to his house.)
So, back to the gorilla story. When I was running TCU's Fort Worth Contemporary Arts in 2011, I asked to borrow the gorilla for a show—I wanted to show him on his own, with no static from other work—and the G-M Foundation agreed to loan him. I won't apologize for referring to an artwork with a pronoun. That's the effect My Gorilla has on me. There, I made it worse. I do refer to him as My Gorilla. I wonder how many of us who love art, and see a lot of it, get so attached to something in some collection somewhere that they/we start to feel territorial about it. (There's a Dieter Roth at the Walker I do that with, but it's the only other work I can think of that inspires such possessiveness in me.)
Here's what happened. A few things happened, actually. The art handlers show up at the space in their truck—I'm pretty sure it was Unified, which is a good sign—and the gorilla is strapped to a huge wooden pallet. His arm, of course, is in its own crate. Both arm and gorilla feel like they must weigh around a million pounds. The handlers magically get the gorilla onto a big dolly and while they're unloading the arm crate, I push the gorilla toward the gallery loading bay. The artist Devon Nowlin, who was the gallery manager at the time, took a picture and of this and, being a painter, she made a painting from that photo. (My mother bought that painting from a 2013 group show at Artspace 111 and to this day she swears she did not know she was buying a painting of her own kid. It is of my backside, but still.) We finally get him into the gallery and Devon and I are saying, "Now what?" and the art handlers say: "Well, that's it. We're done."
So here's a kajillion-pound gorilla on a pallet in the middle of the gallery. We can't move him, place him, unwrap him, nothing. We need a gantry crane. And of course the gorilla doesn't show up with his own crane, and I—not being a registrar—had utterly failed to think of this.
We sourced a gantry crane that day, and fortunately there are some professors at TCU who really know their way around this kind of rig. And all the MFAs came over to watch this spectacle and even help get the gorilla up, over, and into place. It took hours. I was like a baptism. It was a strange, tense, and great day.
It marked the gorilla's six-week residence at the gallery and of course he was a hit. The gorilla is perfect for receiving projected emotions and expectations from anyone: comedy, sadness, contemplation, trauma, loneliness, the moment of entering self-consciousness. Everyday I walked into the gallery and in a very uncharacteristic ob-comp ritual, I would place my palms on either side of his face and press my forehead against his and ask him how he was doing. I would tell him how I was doing. In a world where no one is supposed to touch the art, ever, there was something incredibly moving about having such a tactile relationship with this work.
And then, at the end of the show's run, he was taken away. I knew I would miss him, but I didn't worry too much because I knew he was going back to his lovely, peaceful house and lawn, and I would get to visit him every so often.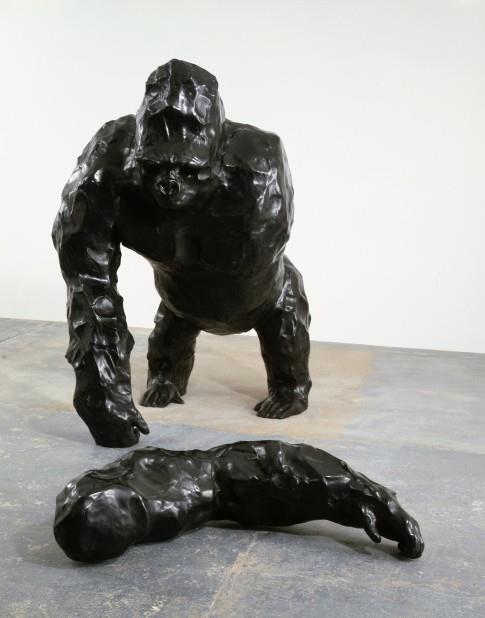 I called the Goss-Michael Foundation today to ask about him. The person who answered the phone might well have thought I was crazy, but she patiently explained that no, the gorilla has not been moved from the house to the foundation. She said she wasn't sure where he would go. That he might go out on loan. I'm the kid who completely internalized The Velveteen Rabbit, so I dread to think he'll be put in storage indefinitely, in some dark warehouse.
Proposal (you might have seen this coming): The Nasher should take him on long-term loan; put him out in its lovely garden, near the de Kooning and the Moore. The burning glare from Museum Tower can't hurt My Gorilla; he's tough. He'd be very happy there and I could visit him, and so could all of you.