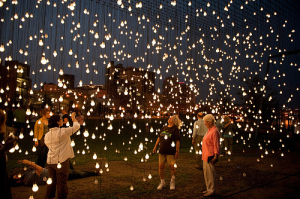 Jim Campbell's "Scattered Light" installation, originally commissioned for Madison Square Park in NYC in 2010, is coming to the outdoor garden at Northpark Center in Dallas.
NorthPark's manicured CenterPark Garden will play host, starting November 25, to this very popular outdoor installation, which most recently appeared in Hong Kong. It's made up of  1500 suspended LED lights that look like old-school incandescent bulbs, which are staggered and programmed to blink in such a way as to animate a moving image of human shadows walking across and through the light field. Here's a link to a short video to better illustrate what I mean. It's pretty cool.
By photos posted online of its previous installations, it looks as though viewers are also invited to walk and sit among the lights.
The installation will go up in time for the holiday season but stay at NorthPark through the spring. NorthPark, known for its architecture and art displayed throughout, was built by the Nasher family and showcases work from the Nasher collection (and visiting public work) with a program independent of the Nasher Sculpture Center.