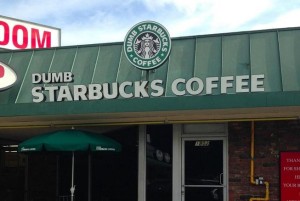 Most people who have been on any social media site in the past few days have read about Dumb Starbucks, the coffee shop that opened a few days ago in Los Angeles. Articles are being enthusiastically forwarded and re-forwarded about the mysterious faux Starbucks, many concluding that it must be some sort of brilliant conceptual art project. In fact, this afternoon L.A. conceptual artist Marc Horowitz took to Twitter this afternoon to claim responsibility: "Would love to do interviews about #dumbstarbucks — just waiting for @TODAYshow or @jimmykimmel."
But later in the afternoon, several major news sources began reporting that Comedy Central's Nathan Fielder is the man behind the Starbucks parody. "I'm proud to announce we'll be opening our second Starbucks in Brooklyn, New York soon… This really caught on so I'm going to ride it out," he announced.
The store opened this weekend as a near perfect replica of a Starbucks, advertising Dumb Frappuccinos and displaying Dumb Starbucks mixed jazz CDs at the register. Also available was a handout explaining the store, which included this statement: "Although we are a fully functioning coffee shop, for legal reasons Dumb Starbucks needs to be categorized as a work of parody art. So, in the eyes of the law, our 'coffee shop' is actually an art gallery and the coffee you're buying is considered the art."
This is not the first time Starbucks has been the subject of an art intervention. Reverend Billy and the Church of Stop Shopping (run by Bill Talen, playwright/artist and 2009 Green Party NYC mayoral candidate) took his mess-with-Starbucks performance art act on the road, stopping in Houston about a decade ago to cause a mob-flash-style confusion at the twin (later, three at the same intersection!) Starbucks in River Oaks.
Starbucks seems to be handling this latest jest in stride. In an email to USA TODAY, Starbucks said Dumb Starbucks is not affiliated with Starbucks, adding, "We are evaluating next steps and while we appreciate the humor, they cannot use our name, which is a protected trademark." A spokeswoman told the AP that the majority of trademark disputes are "handled informally."
Starbucks' attitude so far seems to suggest that they have learned something about the powerful headache of social media. Only a couple of months ago, they sicced lawyers on a small brewpub in Cottleville, Missouri for naming one of their stouts "Frappicino." The Huffington Post published a hilarious article entitled "Best Response To Starbucks Cease And Desist Letter Ever" that went viral. This time, Starbucks is being more cautious, though it's doubtful the Brooklyn Dumb Starbucks will actually appear.