Tom Sale has spent three years of his life and around $20,000 of his money learning about Florence Nightingale. Artifacts From the Adventures of Florence Nightingale at the Webb Gallery is the first public display of the fruits of this project. Sale has collected and created objects that tell a story of Nightingale's life and adventures, covering her early life, her groundbreaking work as a leading trauma nurse in the Crimean war, and her work as a health and sanitation advocate later in life.
Tom Sale didn't invent the "Science and History Museum show as artwork" genre. The Museum of Jurassic Technology in Los Angeles, my favorite place in the world, is perhaps the greatest example. It is a museum in the style of what museums used to be: featuring art, science, and history exhibits all in the same space, a place out of time where the exhibits teach about historical events and characters whose stories are so amazing they are hard to believe.
Tom Sale's show does the same, with a strong overtone of obsessive collector and hoarder, not unlike something from a cabinet of curiosities, the ancestor of natural history museums. The Webb Gallery's packed-to-the-ceiling feel does a lot to enforce this sense of  an early exhibition space.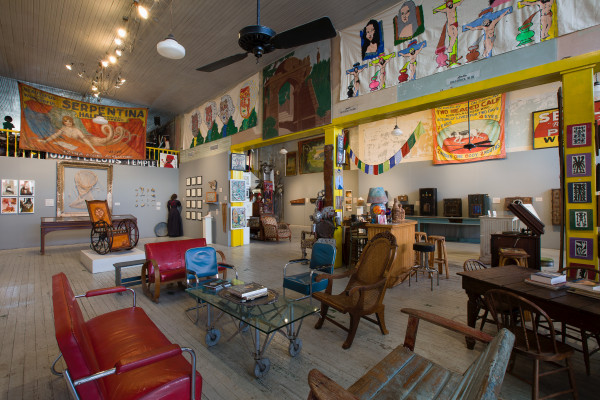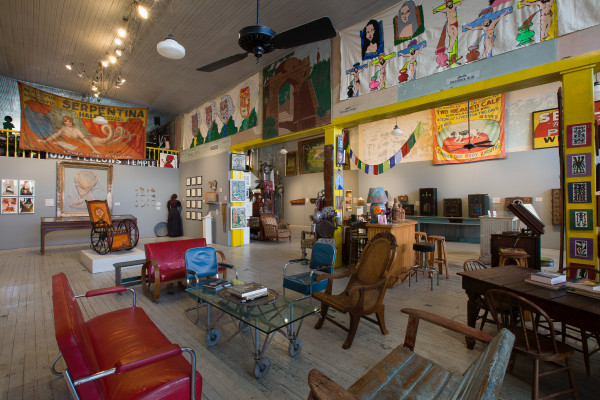 Sale has worked with a team of collaborators and assistants, including Richard Saja and Penny Nickels, to make this exhibition a reality. His outsourcing of hi-craft to compliment his very hi-concept ideas has been a huge success. Florence's Wheelchair is a prime example; the leatherwork by Scott Horn is exceptional. The idea of Florence having such an oddly embellished wheelchair, featuring twins in utero, is so strange and beautiful.

Florence's Wheelchair
Sale's display includes many of Florence's personal collections: Photographs of Nurses, Scissors, Photos of "Men Married to their Chairs", Test Tube Diagrams, and Livery Buttons. Collecting is something a large portion of humanity does, but creating value for those collections and making them important is a different process. Having the hubris to display one's personal collections is at the heart of why museums exist.
History is told by those willing to spend the time and resources to create and shape the narrative. Today's museums have socially positive goals; education and providing the public with art and history at low or no cost. Nonetheless, museums are shaped by the agendas of those who provide the collections and the money to keep the doors open. Tom Sale's narrative about Florence Nightingale is being told for personal obsessive reasons. He shapes her story to meet his artistic needs in a way that exposes the nature of history as a collection of story-lines and provides a wonderful pastiche of her life and times.
Sale uses very long museum-style labels to embellish the items and provide authority to the story. The are sometimes to the point, such as this one for Makeshift Suppository Holders:
"MAKESHIFT SUPPOSITORY HOLDERS. Florence Nightingale was very controlling of every aspect of the women nurses who worked under her supervision during the Crimean War. Each nurse was given an empty lipstick holder in which to carry her daily suppository (made and supplied each day by Nightingale herself, Mrs. Bainbridge, or later, Mrs. Shore)."
Other labels illuminate a more magical part of Florence's story for example the label for this Ostrich Egg:
"OSTRICH EGG. There is little actual evidence of the supposed existence of the mermaid that Florence Nightingale brought back from the East, but this ostrich egg is one of the few artifacts in this exhibition that could be associated with the sea creature. According to a personal account from a rambling conversation with Nightingale in 1906 (with a visiting probationer from the St. Thomas Hospital Nursing School), the topic of the mermaid was broached. Nightingale began in the middle of a story of how the poor, sick mermaid would eat nothing but tulip petals dipped in whipped ostrich egg whites and sprinkled with powdered sugar. She went on to recount that four cases of ostrich eggs accompanied her and her small entourage on the journey back from Constantinople at the end of the war in 1856. Tulips were purchased at every port, and Nightingale herself was the only one who could prepare the dish properly. The student nurse promptly returned to her supervisor and told her of this odd story related by the aged and now almost blind Nightingale."
Tom Sale is known for his dioramas, so it's understandable that he would include a collection of Dioramas In Trunks, but their inclusion feels forced.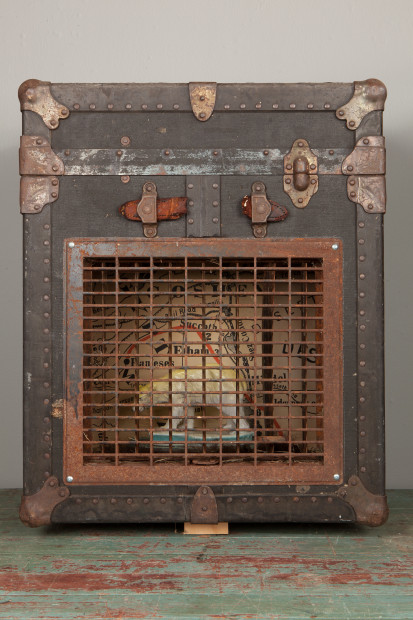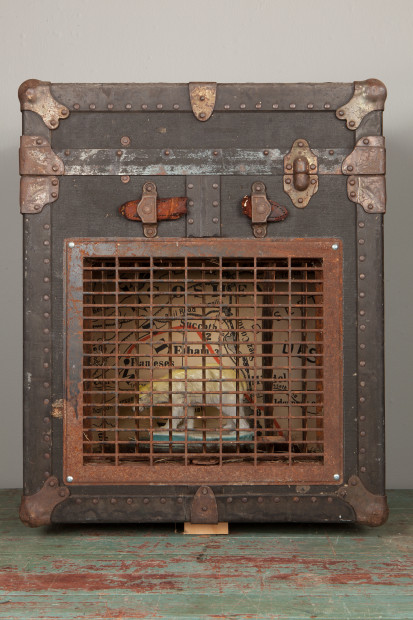 The label for them reads:
"DIORAMAS IN TRUNKS. This series of trunks with openings and small interior scenes are perhaps the most enigmatic items in this exhibit. It is known from Florence Nightingale's private notes that she commissioned 35 trunk vignettes from an establishment in Bird Lane, London called Frankley's Sets and Furnishing for the Theatre. There is no further information about the purpose of these trunks nor the meaning of the interior scenes. The originals were lit with small gas lights, so for the purpose of safety, they have been rewired with electrical LED lighting."
These dioramas are fun to look into, and the vignettes inside are delightful and use effective optical trickery. Each could contain its own stories and mysteries as deep as those of the whole exhibit, but they feel like they were re-created and not the original artifacts they claim to be. I want to believe this exhibit's story and the dioramas take me out of it more than anything else in the exhibit.
This show ends soon (January 29), and you need to spend some time reading and examining it to get the full effect, but it is worth your time and travel to the Webb Gallery in Waxahachie.