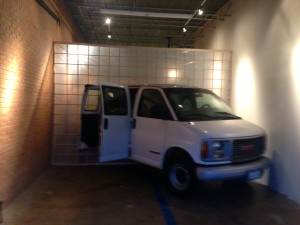 Despite the silly names (of the exhibition and the gallery space), the show was a pleasant surprise: really entertaining. You enter through the side doors of a white van, parked halfway through a temporary rice-paper wall. Coming out the van's back doors, you're immediately greeted with a large green sculpture resembling a skateboard ramp, all hard angles and building materials fetishism. A lot of 2x4s. It's pretty impressive, not only for its size, but also in the way it takes over the bare industrial space. Mostly a network of triangular facets, the piece is evocative of being inside a video game or an electronic topographic map. Definitely rendered in 3-D modeling software and then made into an object.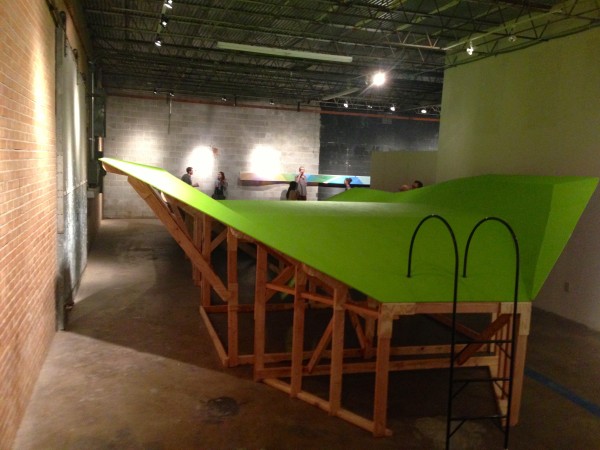 The third piece (counting the van as the first) in this minimal show was a long, long wall-mounted object made of reflective Plexiglas covered in the stretchy hole-punched vinyl used for wrapping signage around cars. The vinyl has been printed with colors and gradations that get an iridescent lift from the mirror underneath. If it were smaller, you could sell things like this for twelve hundred bucks in a mediocre gallery in the design district all day long, but it's too monumental to be mistaken for design-y objects that get sold to people who want abstract, meaningless things on their walls. Like the ramp, it's a surface of fitted triangles; according to the artist, they're based on the topography of the landscape as seen from her home, but knowing that doesn't change my opinion of the work. It's got some slightly misfitted corners, but they don't ruin it. Epic in scale, considering this is a one-week show.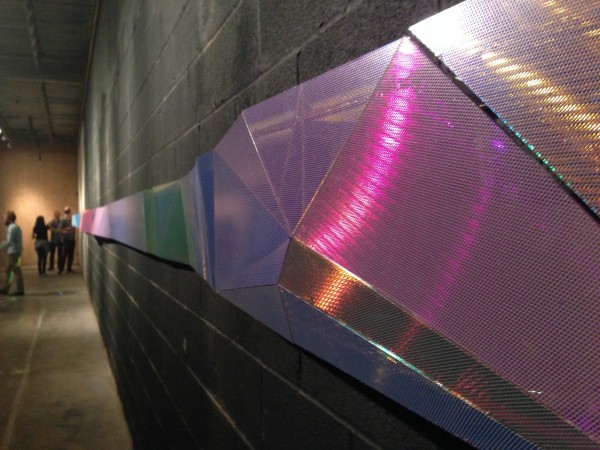 Both pieces are a way of interpreting topographic maps and computer-rendered polygonal structures that feels like a necessary extension of a computer modeling into the real world, rather than a trivial one. It's not just pressing "print" on the 3D printer; the artists have gone through the steps that an architect or a builder goes through in realizing a project. Sensitive to the architecture that surrounds them, the pieces feel built for this specific space, even though they are objects that can be moved somewhere else. They fit.
Topo-Tarantulas, the first collaborative show by artists Tim DeVoe and Miriam Ellen Ewers, is the inaugural exhibition for Ware:Wolf:Haus, at 425 Bedford, in the new West Dallas neighborhood across the Calatrava bridge. The building's developer is loaning the space for a few years while the neighborhood gentrifies, and curator Arthur Pena is working hard to make a fun place where fun things happen. It's a partnership to add culture to the neighborhood and provide a space for artists and musicians. They will probably do more music programming than visual art programming and I imagine that the art shown there will be more event-based, temporary spectacles like this one, than long shows.
At the closing next Saturday, the artists are going to reveal a third element (or fourth, don't forget the van!).
Tim DeVoe and Miriam Ellen Ewers' Topo-Tarantulas will be on view at Ware:Wolf:Haus through October 6, with a closing party on October 5 from 6-10 p.m.
Tim DeVoe is an assistant professor in Studio Arts at University of North Texas. His studio is in Denton.
Miriam Ellen Ewers' work is currently featured in the 2013 Texas Biennial at the Blue Star Contemporary Arts Museum.
Thomas Ezekiel Williams is available in personal-sized portions at art events all over Dallas. Look for him at Chinati Weekend in Marfa.