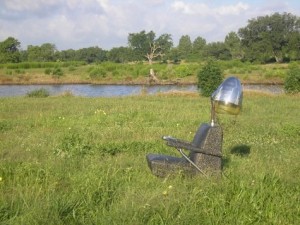 Doug McCash of the New Orleans Times-Picayune reports on a controversy at that city's Contemporary Arts Center. Echoing last year's Arthouse (Austin) debacle, the CAC rented some of its space out to a movie production company during the run of an exhibition of local art, closing the show for five days to gain some much needed revenue.
Although the rented space and the exhibition space are separate, and the Center's Executive Director Jay Weigel proposed extending the show's dates to make up for lost time, 6 of 41 artists participating in "Spaces: Antenna, The Front, Good Children Gallery" have withdrawn their works in protest.
The sense of deja vu is enhanced by the resignation of CAC curator Amy Mackie last month, leaving the CAC without a curator, and education director or a performance director, much the same situation as Arthouse before its merger with the AMOA. A string of comments following the Picayune article on Mackie's resignation expresses various unflattering opinions of Wiegel and the CAC board, some with facts and figures!
One commenter, "Seedy," gripes: "This total disregard for standard art industry practices is what keeps New Orleans marginalized in the eyes of the art world at large, when the work being produced here is of a quality to put us firmly on the map. If the CAC treated a traveling show including "name" artists in this fashion they would be sued." Just replace "New Orleans" with "Austin" or "Dallas" or "Houston" and you'll feel right at home!