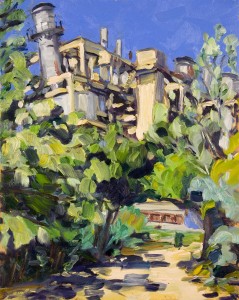 Daniel Burns is  a plein-air painter who lives in Austin.  He cranks out loose, colorful street scenes and landscapes in the traditional style; like many artists, he's  built a studio in his backyard. But, unlike his less tech-savvy beret-wearing colleagues, Burns has bundled his paintings into a project, and the project is on Kickstarter, the micro-funding website. Burns' project description is straightforward:
"I'm going complete 20 paintings in 30 days from in and around downtown Austin using the guerrilla style painting techniques I learned while painting on the streets of NYC. I will publish a  full color catalog of the project and host a show of the work at my new backyard studio.
The painting phase of project will run from  August 15th to September 15 at which point I will need time to assemble the rewards and prep for the show which will take place at the on Thursday September 29th. I will be posting updates as the project unfolds so check back often!
The funds generated will be used for art supplies, printing costs, matting and framing, shipping, drinks and snacks for the art show, and probably a cup of coffee, maybe more.
Thanks again for your participation. Hope to see you at the show!"
Burns fundraising goal was $1600; he's received pledges for $3083 so far, and the deadline's not until September 7! Go figure.