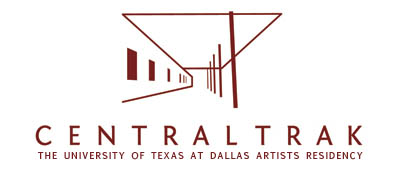 Dallas' Central Trak launched this past week. It's the latest incarnation of the UTD-sponsored effort formerly known as the UTD/South Side Artist Residency,
which was my entrée to the Big D three years ago. It limped along
without funding, was pretty disastrously mismanaged, and ignominiously
collapsed after only two years. The need for such a program here in
town remained however, so new partnerships were forged, and most
importantly, some money was rustled up. A search was conducted for a
director – in my continual hunt for a decent art-related paycheck
without having to move away, and since I was teaching at UTD anyway, I
was encouraged to join the cast of thousands who applied. Dr. Rick
Brettell, the primary impetus behind both programs, had once asked me
if I'd think about taking the helm at South Side. It was too far gone
at that point to even be seriously considered, and his asking was I'm
sure an act of pure desperation. I wasn't called back this time, which
was totally fine. Really, why would they? I'm just an
"under-represented" artist and lapsed Zen monk with a somewhat
unfocused blog…
Word on the street was that the
final, quite promising-sounding shortlist included a Mexican curator,
and a woman from Boston, if memory serves. Then, last summer, I heard
from insiders that there was an "exciting late development," which soon
turned out to be Charissa Terranova.
She jumped ship at SMU (to their chagrin), enticed over to UTD with a
tenure-track gig to include the residency directorship and a class or
two. Sweet deal. So, a few months pass, and I guess there was an
invite-only opening gala last Thursday. It's all started off with a
bang, apparently.
Ted Setina
is a UNT grad who's been kicking around Dallas the last few years, and
who's shown at Road Agent. Yet another casualty of exactly the kind of
problems that sank UTD/South Side, he had applied in 2005 and been
promised a stint there into 2006. As the date closed in, he tried
ineffectually to get any confirmation that he was indeed going to be
able to move in. As it turned out, he got bumped by another artist,
without explanation or notice. The whole thing shuttered before he got
satisfaction.
Cut to 2008 – he applies again, is
accepted again, and moves in not two weeks before the opening. He's
told – rather, given the opportunity – to get a piece together for open
studios that night. The theme and title of the Terranova curated show
in the gallery is "False Space and Time of the Apartment" which I'm
told is a line from JG Ballard – another one of those names that equate
to insta-cred on the pseudo-intellectual street. It would be funny to
tally how many times he gets name-dropped in your average CAA
conference. In a weird crossover, my stoner friends back in the day
loved him. I seem to remember one of those RE/Search books on him and Burroughs that lived next to the bong. Don't bogart that copy of Crash, dude.
Anyhoo, Setina, who has flirted with
a kind of neo-conceptual practice before, in relation to the theme had
what I think's an inspired notion. He got a dj, and locked himself in
his new studio with a group of willing individuals for the length of
the opening. No one was to enter or leave, and the dj was to play so
loud as to preclude frivolity or pleasure of any kind. A kind of
sensory-overload endurance tank (in other words, your typical bar in
the West End).
They were all to be prisoners for those two or three hours, hidden from
the event outside, yet intruding upon and engaging it.
Someone I know attended that night (the Thursday night preview),
and not knowing anything about it told me later it was easily the most
interesting thing there – this pregnant question mark punctuating an
otherwise canned evening. He said that it was obviously too loud for a
real party to be happening in there, and without knowing if there was
really anything to get, he totally got it. Is there someone in there?
What are they doing? How can they stand it? Being/Nothingness.
Commentary on contemporary social interaction. A sort of faux-teenage
rebellious, Duchampian dance party; Schrödinger's Rave…
Terranova was informed ahead of time
what was happening (locked door, noise etc), without exactly revealing the mystery. During the
opening she chose to just unlock his door without permission, actually
ushering attendees uninvited into the artist's studio. The seal was
broken. Setina felt the piece was over, fucked; or was it? He called an
audible, turning over all of his furniture and making the place look
like the aftermath of a massive party. Everyone left, except the DJ,
who continued the deafening spinning. Nice. Let a local art legend
begin.
Later that night, in full parental
drill sergeant mode, Terranova supposedly dressed down Setina in front
of two dozen wine swilling stragglers, shouting that he was immature
and telling him to "grow up". Nice way to treat one of your resident
guest artists in front of Dallas' invited art world who's who. Follow
up attempts at rapprochement were rebuffed. It seems to me that she
missed the point; which maybe makes the piece even better. It's hard to
create a stir anymore. I'm jealous.
Other sources are reporting that some
other residents, a whole two weeks in, are disgruntled and already
drafting complaints about their experience so far. There's always a
learning curve. I sincerely hope things keep getting worked out. But
you got to massage those artist egos. It's probably something on par
with herding cats.
Now, I found out about all this only
after the public event for the hoi polloi on Saturday. I wanted to go
to show my support, but had to be cajoled by my wife due to a
premonition that I should stay home (or at And/Or, who btw had another great opening). Yet more proof you have to listen to intuition.
In a truly spectacular irony, there
was a dj in the courtyard outside the building, playing obnoxious
pumping club music way too loud, complete with spinning disco ball
casting primary colored spotlights all around. Feeling pretty well
trapped myself, I shouted to someone next to me "Whoops, forgot my glow
sticks!" which I thought was clever till 5 people came out and shouted
the same thing at me. So goes a cliche. Aerosol party in a can: whoo
hoo.
I did get to catch up with a number
of my former UTD colleagues and students, one of whom has a studio in
the building and wanted to show me his new work. As we talked, an
unconvincingly smiling Terranova walked up, and without greeting or
preamble, butts in a bit too loudly to say "I'm glad you're moving to
Chicago, Titus, so you can just get out of Dallas and go be bitter
somewhere else." Ahem. Well, then…socially at a bit of a loss (I just
wanted to see the kid's art and move along, fer chrissakes), I tried to
laugh it off in that discomfited way one does ("heh heh, yeah, bitter
ol' me, heh…"), but she just kept stepping in closer and closer,
inexplicably repeating the same thing two more times with increasing
venom, I guess in case I missed that she wasn't kidding around (which
is all especially weird, 'cuz I'm actually not bitter at all. Lick me.
I dare ya. Sweet as candy.)
Almost speechlessly creepified, I
managed to get out "Charming as always, Charissa," and walk away. She
dismissively yelled after me across the full gallery, "Why don't you
just go blog about it?" Well, that is my little thing. Seriously
though; is this how the director of a visible new art center chooses to
roll on the big night? Is this public outreach, building bridges in the
community? Me, I'm just a loose cannon with more opinions than sense,
beholden to no one; except of course to you, dear readers.
Terranova is no doubt an asset to
Dallas in some ways, and she certainly keeps herself visible. Careful
attentiveness to human interactions, with a welcoming sense of
intellectual openness doesn't strike me as exactly her leadership
style. I don't really see a need for her to going throwing her
new-found weight around like this, in any case. But hey Dallas, she's yours for now.
Bon chance and the blessings of the buddhas to all.
Which presents me wth the need, and opportunity, to explain that my wife just got a full-ride offer to the MFA program at University of Illinios Chicago,
which she's leaning toward accepting, so we're going this week to check
it out. Cocktails and power lunches for a week straight. I might once
again be polishing up my flat vowels and hard consonants, as I possibly
rejoin my Midwestern brethren by fall. Nothing's final yet. But I like
Chicago. Such good hot dogs. Go Rex Grossman – you can do it! (I'm
practicing…this switching of football loyalties is the toughest part…)