Since modernism's beginnings, obscurity has been a useful strategy for confounding the bourgeoisie, twitting the elite, and excluding the peasants. Every utterance is meaningful, and the meaning of opaque rhetoric is "keep out." In this context, the tiny, black-on-black invitation for Towards a New Architecture, the show's catalog, printed in type so tiny and gray it's nearly illegible, and the spare, information grudging website of Galeria Perdida, the show's nominal organizers are all of a piece.
The facts are simple: Towards a New Architecture was a temporary art show in a vacant house at 1100 Milford St. in the Museum District. Julie Spielman, who also runs Galeria Perdida in Michoacan, Mexico, organized recent work by a collection of fourteen artists from Los Angeles, St. Louis and Houston. The "New Architecture" part stems from the fact that the house, a fabulous old building with real lath-and-plaster walls and an immense live oak tree in the front yard, is vacant pending renovation into the architectural offices of Gabriel Architects, who are allowing Spielman to use it.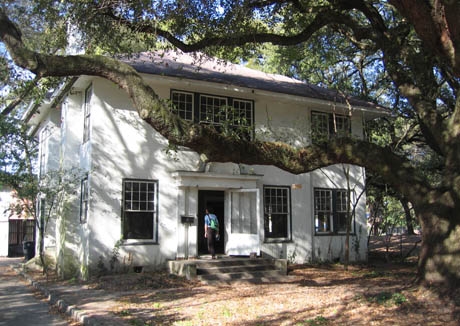 Unfortunately, the show pushes it's "new architecture" pun too far, belaboring it into a theme. Many works in the show dutifully include architectural imagery, but only a couple of the best work with the space. Mostly the art is overshadowed by the powerfully romantic vacancy and partial demolition of the building itself.
Admittedly, it's tough act to follow. The house is scattered with artfully placed relics that, I was told, are not part of the show. Yet they're too suggestive to be accidental. Whoever arranged the leftovers and altered the building deserves credit for a subtle, almost accidental-seeming installation that leaves the overlaid "art show " literally in it's dust.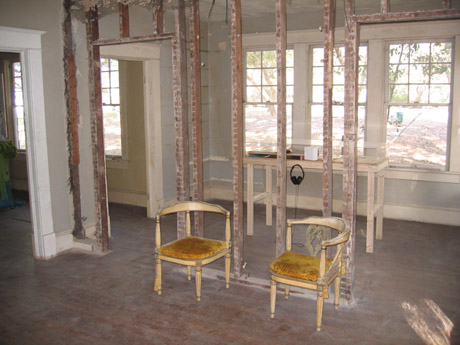 A section of living room wall is chiseled out to reveal bare studs, pushing Jeff Williams' Mantle, one of the few building-intervention pieces, into the background. Dusty blinds and vintage luggage successfully compete with Jorge Andres Rodriguez's photographs of guitar strings and Brad Eberhard's tiny painting Black and Green Olives. A pair of broken chairs were far more suggestive than Andres Janacua's Project for a New Berlin (in the background), a vitrine containing a jumble of documents relating to a fragment of the original Bauhaus building in Dessau. At the foot of the stairs, electrical wires reached out from the crumbling wall like zombie tentacles. How can you beat that?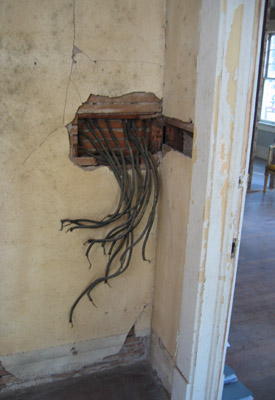 Upstairs, a cardboard crawl-inside-and-play dome by Evan apRoberts epitomized the fascism of interactive art. The colored pencils were inside, where it was dark and crowded. I wanted to draw on the outside, where I could see what I was doing. Frustrating, not fun.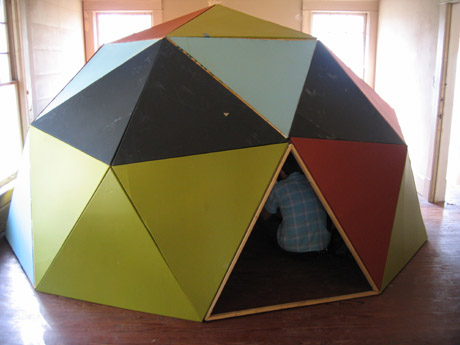 Two of the best pieces were more subtly integrated into the old-house experience. Crutch by Andres Janacua was understated: two books propped up by a little stick in an old-fashioned telephone nook. The larger book was 3000 Years of Art and Life in Mexico by Ignacio Bernal, atop it rode a small paperback Spanish dictionary with a smooth white cover. The Bernal, apparently from a library, was bound in coarse terra-cotta buckram. A peasant laboring under a white master? Or is it the rich red soil sprouting a clean white modernist building?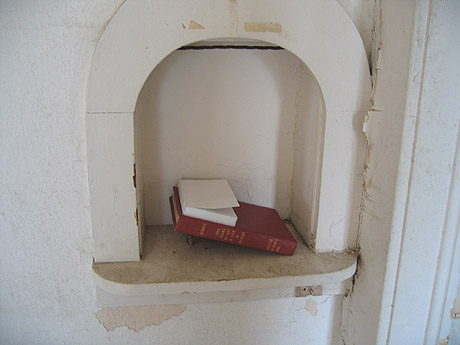 An untitled sound piece by Steve Roden emanated from an unpainted MDF box wedged across a vacant corner. Raindrops on metal, plucked strings and other unidentifiable but softly evocative sounds enlivened the space without competing with it. Of course there has to be a speaker somewhere, and the odd, awkward box and its poorly-concealed cord located it without adding distracting information. Curious and understated, both pieces compel attention that's in tune
with the melancholic history-laden old house, succeeding just where
most of the show fails.