I wanted to follow up on my Denver
museum day musings (disheartened as I was with the new DAM building) with
something positive about the new Museum
of Contemporary Art . It
just opened in October, and was designed by David Adjaye, who some of us may
have seen speak in Marfa, also this past October. I was impressed with him and
his work, in particular his attentiveness to context and subtlety – the two qualities
so woefully absent in Libeskind's effort on the other side of Downtown.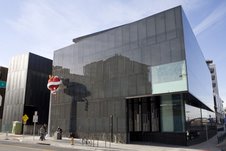 I grew up in Littleton , just
south of Denver, a stone's throw from the South Park
guys, and not too far from Columbine
High School. I moved away
for college, but over the years have ended up living in Denver off and on, including a stint in the
lower downtown district (called LoDo ) that Kerouac documented in its skid row
days, and where the MCA has found its home amidst a crowded, recent condo explosion.
Over the last few years, the "Museum" existed in name only, taking up temporary
digs in a few different locations while cultivating a donor base, I guess, to fund
a permanent site. They've done it right, leaving Denver singularly poised to be an actual
destination for decent contemporary art. Contrasted with similar operations in
other cities between coasts, including some in Texas, well…there's really no comparison.
Their inaugural show is a truly international effort, and I
found it totally impressive, even if I can't really say I was excited by
anything in particular in it. I suppose if I wanted to I could dissect individual
works and explicate why they left me as cold as the 12" of fresh powder piled
up outside, but I was generally so impressed with the building and the seriousness
of the effort, and frankly sort of envious that it was happening there and not
here, that I just don't have the heart for critique.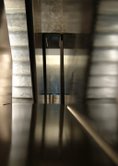 The show is called "Star Power: Museum as Body Electric" and
maybe that explains the vibe that's keeping me uncharacteristically mum about
any qualms. It felt very alive, and serious without being dour or pretentious.
There's an interesting tie-in with Marfa, with Adjaye having just spoken there,
and a number of artists in the current show with connections to him and Marfa,
too. I don't care enough to find out why myself, but please post if you have a
neat explanation.
Artists in Star Power live up to the name – Chris Ofili,
David Altmejd, Wangechi Mutu, Tim Noble & Sue Webster, Candice Breitz and
Collier Schorr. Carlos Amorales and New Zealander Rangi Kipa were less
familiar to me, but in any case, it's a heavy line-up and an impressive first
show. No pictures from me, as even the gallery has some copyright issues with
all the galleries involved, but they sent me a few shots of the building, that
you see here.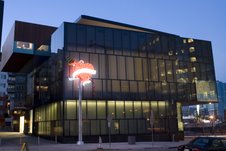 Denver
generally sort of sucked when I was growing up. Millions more people have moved there
since, and if the onslaught has ruined the vistas and horse pastures of my
youth, at least the city is much more happening than it used to be. I'm excited
to see how the MCA unfolds in the coming years, what kind of ripples it sends
out into cultural waters, especially in a city that (unless I'm just missing it on my occasional gallery hunts visiting) doesn't have anything resembling a contemporary art scene. I'm almost ready to move back to find out. Damn, I do miss those Rockies (no, not the baseball team.)

also by Titus OBrien