Diverseworks: Dan Havel
Featuring a tiny house shorn in two and an imposing corrugated metal wall blocking pretty much the entire gallery, most pictures you will see of this installation suck. Besides the small reminders of violent action ― a broken window, some pieces of randomly cut plywood ― little can be found to invigorate the imagination. Instead the real kick of Dan Havel's piece is his video work.
With the intensity of a US military dispatch to
CNN
or a
YouTube
insurgent video, Havel has drawn our attention to the
how
of his work, and how much of this
how
lies in what we experience every day.
You know those placards on the wall in a museum leading you to interpretation? The video is one wrapped up with a big bow, exposing much that you would have never known about the artwork and dragging it out into the open in a disagreeable and riveting way ― tailored to a media-soaked mind.
Community Artists' Collective: Dawolu Jabari Anderson, Gregory Michael Carter, Nathaniel Donnett, Michael Kahlil, and Lauren Kelley
Curated by Michael Kahlil, Future Present Series: Volume One is presented by the Community Artists" Collective and exhibited at the Midtown Arts Center. For all the HCC kids across the street, I hope every art class is forced to make the trek to the other side and write about this show. Students tend to freeze in front of paintings when it comes to discussion, especially when they have seen a piece expounded upon for six pages in boring black and white. Anathema to this stunted silence, Volume One excels at being accessible and tangible. If you cannot articulate a decision in front of these works, please go back to grade school. Those kids know what a painting is.
The work of Dawolu Jabari Anderson is instructive and capable: a populist narrative distinctive even in the installations produced by the collective Otabenga Jones (of which he is a member). Close to the surface lie easy references to comic books, instruction manuals and textbooks of the seventies ― with a hell of a kitsch patina. Contextualizing the map or poster format, propaganda is replayed over time and space; in fact, Space Invaders reenact the Middle Passage.
Nathaniel Donnett
and
Michael Kahlil
are the meat and potatoes of this exhibition, and the work of these two artists demonstrate an obvious kinship. Both use crude boxes like Joseph Cornell did, enshrining heroes with symbolic paraphernalia. And both largely rely on representation and overt language. In Kahlil's work a couple of rough-hewn boxes contain the words "John Biggers" and "John Coltrane," the latter surrounded by a saxophone, keys and a white chalk bust sketch. Donnett's are bit looser, owing some to Jean Michel Basquiat and Jasper Johns, but his drawings of jazz musicians are up on the wall as well.
Lauren Kelley is mostly a no-show here, displaying several photocopies of drawings with glittered hair arranged on a table. The originals, last year, were cool. Gregory Michael Carter moves away from a culturally normative figuration with decorative, textural designs drawn over the negative space in paintings of rural scenes, and on collages and maps. The "tribal" patterning owes more to the hip armbands of the late "90s than to any specific culture, American high school scrawling presented aimlessly and arbitrarily, as if boredom could drive one to rage.
UH Downtown: Deborah Roberts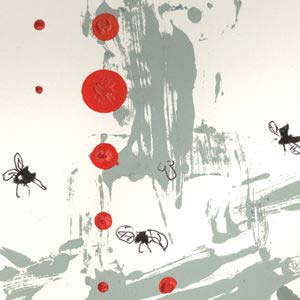 Austin artist Deborah Roberts is quite a find in the airport-like space of UH Downtown; Reconstructing, Reacting, Rethinking only takes up about 20 square feet in a room of glass panels. One drawing ― a monoprint ― encompasses large portions of the exhibition's imagery. A sloppy, gooey Mammy figure slaps, slides, slips and sits in a work that examines these iconic grotesques as strongly as Michael Ray Charles but with a sharper vision, a simplified iconography. With a blood red circle for lips and two shining white eyes, the protagonist is as simplified a human figure as possible while still readable, but the weight of this symbol carries as much character as any more detailed representation.
This straightforward view of life is one in which we all have multiple moments with innumerable spaces in between them. Roberts" hand-drawn multiples and monoprints are standardized but diverse, and in the piles of babies and walls of cops, she embraces stereotypes on the wavelength of Sasha Baron Cohen.
FotoFest: Sterling Allen, Chuy Benitez, Young-Min Kang, Max Kazemzadeh, Brian Piana and David Woody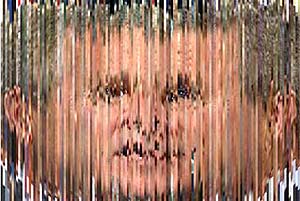 A standout at Lawndale's Big Show, Chuy Benitez's Debating Guest Worker Program brought a little bit of politics in a timely manner to that exhibition's largely formal match between abstraction and representation (representation won). Here in FotoFest's offices (appropriately placed on a Stalin red wall), the panoramic photographs of Benitez encapsulate onlookers more like film than a photo. The digital reconciliation of several images or simply the sharp angles of the format force figures out of perspective, giving an almost frieze-like immediacy to a flat plane. Slicing George Bush to pieces and stretching that grin fifteen feet wide is a pretty illustrative idea. Young-Min Kang uses two or three press shots in similar poses cut into each other like a deck of cards to cover a huge wall in the atrium of Vine Street Studios. Unfortunately, a wooden staircase intrudes about ten feet from the piece and there is no way to get a good look at how this image comes together from across the room.
Max Kazemzadeh puts up a hell of a fight to get away from his photographs, leading the mind with descriptive placards detailing the significance of his subjects ― this boat was bought by my brother and the only time we took it out it died in the middle of the lake, and then we glance back at a large expensive photograph of a rotting boat in the backyard. Not terrifically melancholy, the narrative-with-photo gives you less than one element would have alone. In an altogether different body of work, Kazemzadeh offers the viewer crappy machines that are motion activated and send cutout cowboys in spasmodic circles. More successful in eliciting viewer empathy, these works present homegrown ingenuity gone awry. Controlling the Wild West spills its own blood in an attempt to get "er done.
Sterling Allen is a tragic figure, a caricaturist out of work after the inevitable closing of Astroworld. He now applies his considerable talents to family photographs ― and other people's families, too ― coming up with some pretty funny line drawings. they're nearly kitsch and too average-sized, but if they were huge, it might be interesting. David Woody's photographs are terminally dull. Documenting the Texas landscape is usually more interesting than this, and even though there is a burning car and a lot of portraits of diverse members of society, no image comes forward to grasp something from its subject or from the viewer.
Educated into a stupor, Brian Piana makes images of websites. Their flat planes and mathematical arrangements are translated into Illustrator images and paintings, usually about heavy subjects like the death penalty, and stripped of content. The shades of gray or color theory lessons don't seem to gain anything in their new incarnations as art objects; they are still functional receptacles meant to expedite content. It's like a painting of a beautiful freeway. You can talk up all you want the contemporary relevance of examining these structures, but isn't there a better way to make an omelet?

Images courtesy the writer.

Sean Carroll is an artist and writer living in Houston.