Hmm, how do I explain the Media Archeology: Live Cinema put on by Aurora Picture Show?

I spent five nights riding the current of the Media Archeology Festival put on by Aurora Picture Show who gathered up some of the craziest media-hungry boy bands out there who cut up films, creating live video zines and website happenings. I say boy bands because, although there were lots of screaming ladies in the audience (if not screaming, then howling with laughter sometimes), there was only one female performer involved in the entire extravaganza. Which made me wonder, are men the only ones who have enough free time to do this stuff, or do ladies just like to do things solo?
Wednesday April 13 at Aurora Picture Show, Animal Charm:
Animal Charm is a duo composed of two dumpster-diving media buffs based in LA, who through the years have gathered some rather strange video. In LA they often perform in clubs as video djs, mixing images in an almost trance like way. They often have a set list that they use as a guide from where they start their media layering and explorations. One member of Animal Charm explained to me that they often have an intended statement or idea that they are trying to convey to the audience when they perform. They look at their work in the context of a live video collage, with an emphasis on free association. The work that they created at Aurora felt a bit like the boat tunnel at Willy Wonka's chocolate factory — an assault of disparate, layered imagery. Their set began with a woman running with a sledgehammer into a factory where droning workers lined a hall in rows like a scene out of an Orwellian nightmare. Then as the graphic for apple came onto the video to announce apple's monumental step in 1984 — home computers — a man twirling strange glass balls appears, overlaid with two people passing a medicine ball in a PBS-like exercise program. During the performance the images keep on building, and many clips were repeated as keystones for the other images. All in all the whole thing seemed to be an absurd montage of American society as empty crap. When I asked Animal Charm about the somewhat ridiculous nature of their video matter, they said that they intentionally use non-pc films from the 70s and 80s to make a sociopolitical statement about the things we often ignore. Point made.
Thursday April 14 at Barnevelder Movement Arts Complex, Wet Gate:
The lowest tech of the performers, Wet Gate uses three film projectors with loops of 16 mm film and simple electronic sampling processors that capture the soundtracks and morph them into a subtle audio accompaniment. Peter Conheim, Steven Dye, and Owen O'Toole are the three "fjs" who create a jam session from bits of weird old film they have collected. Most of the film loops range from 10 seconds to a minute. Each performer has his own 16 mm projector that he aims at the blackened screen. Using their sound mixing equipment, Wet Gate altered the found sound in each film to create a sequence that felt like the filmic equivalent of trance music. Little gems of film cycle back and forth over the screen, creating a hypnotizing array of images and colors. Each performer stood with his projector in front of the audience, and like a trio of symphony conductors they made their films dance across the screens, crossing the images and warping them using simple materials like reflective mylar and mirrors. The final product was almost like experiencing a visual dream sequence. Like Animal Charm, Wet Gate creates a play list before each performance so that the images from the three projectors form a coherent vision. The performance seemed to follow a loose narrative, starting with meditation time which morphed into dizzying abstraction, leading to a disturbed picture of society (using what appeared to be vintage classroom films), and finally a sentimental journey. In performance, it seems like the members of Wet Gate are playing a game of visual tag, with each member pursuing the next one to participate. It was compelling, if not edge-of-your-seat riveting.
Friday April 15 at Mixture Contemporary, Paper Rad, Extreme Animals, and Cory Arcangel:

Bouncing energy fueled by Red Bull and neon clothing is how I would describe the scene at Mixture, where Paper Rad, Cory Arcangel, and Extreme Animals fed off the energy of the Houston crowd. The show involved a mini-web lesson, PowerPoint revelations centered on MIDI and music, and finally an impromptu computer rave. The event centered on creating a webpage that I would classify as a media Frankenstein on a mushroom binge, which you can check out here! This night featured the best performance of the weekend, which was Cory Arcangel's revision of Simon and Garfunkel footage where he simply omitted Paul Simon from the footage by standing on a chair and casting the shadow of his hands over Simon anytime he appeared to focus on Garfunkel, the man who according to Arcangel "knows the master plan." The hilariously low-tech intervention was a surprisingly effective manifestation of "fan"aticism. All in all, these guys were having a great time, which from my seat in the second row was a bit scary and very infectious.
Saturday April 16 at Orange Show for Visionary Art, TV Sheriff and the Trailbuddies:
It seemed appropriate that TV Sheriff and the Trailbuddies were the ones chosen to be shown at the Orange Show for Visionary Art. There seemed to be some of the spirit of the O Show in this crazy bunch's strange music videos, an amalgamation of media clips that were overlaid and reused to create songs that made sociopolitical commentary in the most absurd manner. There was also a frenzy to this performance that was different than the other media events. It also seemed like the do-it-yourself attitude that built the Orange Show (and maybe even the zealous adherence to a vision of someone who thought oranges could save the world) was inherent in a band including a rapping sheriff, dj-ing prospector, and mix master gorilla who danced and rapped to clips of Donald Rumsfeld and corporate scandal. In an age when rappers often sample material from our culture to create their catchy tunes, TV Sheriff took it one step further and created videos to accompany the mixed music composed of clips taken from current events, from a skit about "krappy macaroni and cheese" to a song about illegal aliens, wherein Donald Rumsfeld transforms into a green alien during a news conference.
Sunday April 17 at DiverseWorks Art Space, Caspar Stracke and m o s t r a:
The DiverseWorks event was segmented into two parts. The first was a performance by Caspar Stracke and the second by m o s t r a (Gabriela Monroy and Caspar Stracke). In the first act, Stracke played live clips and video clips of images that he has corrupted and replayed from CED — a record-like video device developed in the 1970s. Stracke has used a soldering iron to burn and alter the disk to make sure that the technology skips and falters. The resulting disparate images from Tron and another film stuttered across the screen treating me to my first media seizure. I felt like my VCR was on the fritz but I could not get up to press stop. The second act of the night, m o s t r a, started with a promising scene from the film Fear and Loathing in Las Vegas. They spliced clips from the movie, overlayed with trance music. But my enthusiasm quickly came to an end, as I realized that this was going to be another longwinded event, meaningless at best and heavy-handed at worst. The worst sequence was a dual screen bit of people being treated, sedated, and dying in hospitals with machines and doctors struggling to nurse them, all set to a maudlin violin concerto. Two minutes into it I felt annoyed, five minutes into it I felt offended, and ten minutes into it I watched the audience around me to see if anyone still gave a shit about this little mortality vs. science play. Based on their glazed expressions, I would imagine not.
What's it all about?


This year the self-stated goal of Aurora's first Media Archeology event was to highlight performers who reuse found media to create live cinema events. That sounds cool, right? I have to admit, I started this adventure off as a bit of a skeptic: how can all these people dig from the same media scrap pile to make something new? If you pull from the same stuff, won't it all start looking alike after a while? While most of the acts had a similar vein of social critique — a way to comment on our culture through our discards — each group had a unique way of reconstructing their truth.
The main problem was the same one that has plagued much of experimental theater, film and performance art forever; after a half hour of the same imagery repeated, or the same techniques being applied, it ceases to be engaging. Maybe (being of the MTV generation) I just don't have the stamina for this type of thing, but I bet that many in the audience would agree that, like most jam sessions, the Media Archeology performers continued to have fun long after the editing should have kicked in.

Video courtesy Aurora Picture Show.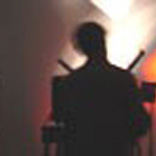 Jahje Bath Ives is an artist and just recently got accepted into Tyler School of Art: Rome School.