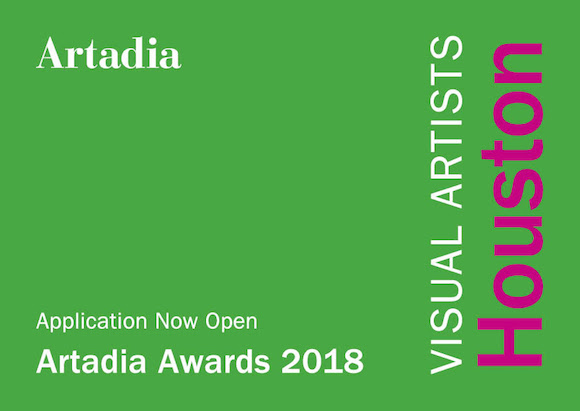 Artadia, the national non-profit "that supports visual artists with unrestricted, merit-based awards and fosters connections to a network of opportunities" has opened its Houston-based applications for two $10,000 prizes to be given to two Harris County-based artists. For nearly 20 years Artadia has been giving medium and large money awards to artists based in Atlanta, Boston, Chicago, Los Angeles, New York, San Francisco, and Houston. The deadline for Houston applications is May 1, 2018.
Some recent past Houston-area winners include Regina Agu, Kaneem Smith, El Franco Lee II, Autumn Knight, and JooYoung Choi.
The awards are open to "all visual artists living and working throughout Harris County. Individual artists and collaboratives working in all media, and at any stage in their career are strongly encouraged to apply." In May, after a two-tier jury process involving both Houston-based and outside jurors, Artadia will announce the five finalists, who will then receive studio visits. The winners are announced in early June. Both winners will receive an unrestricted award of $10,000 each.
Via Artadia:
The Houston Artadia Awards are:
– Open to anyone living in Harris County
– Free of application fees and project outline requirements
– Merit-based
– Unrestricted
Apply if you:
– Have lived in Houston for at least two years
– Are not currently enrolled in an art-related degree program
– Would like to have your work seen by a panel of prominent curators
For more on this and/or to apply (again, by May 1!), please go here and here.