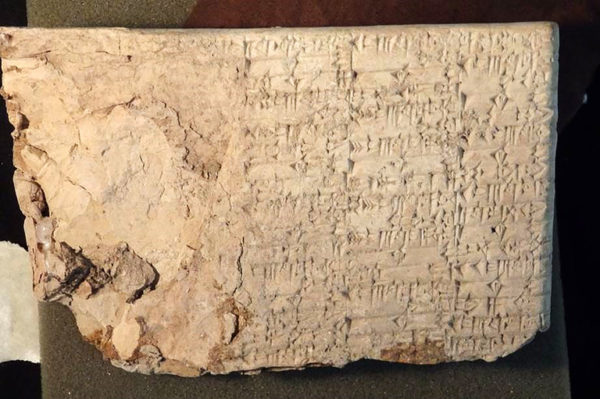 On Wednesday of last week, the United States filed a civil complaint against arts and crafts giant Hobby Lobby, claiming that they, via the United Arab Emirates and Israel, had illegally smuggled thousands of cuneiform tablets and clay bullae into the US. Though Hobby Lobby and its owners, the Green family, are charged in the case, the named defendants are the objects themselves — the case is officially called: The United States of America v. Approximately Four Hundred Fifty (450) Ancient Cuneiform Tablets; and Approximately Three Thousand (3,000) Ancient-Clay Bullae.
Packages containing the tablets and bullae were sent to Hobby Lobby's Oklahoma City headquarters and to two of its corporate affiliates. The shipments were labeled as "hand made clay tiles" and were seized when they came into the country in 2011. In a government settlement, Hobby Lobby has agreed to forfeit the artifacts and pay $3 million to resolve the case.
Hobby Lobby President Steve Green claimed the improper documentation of the artifacts was due to inexperience. In a statement, he said that the organization "should have exercised more oversight and carefully questioned how the acquisitions were handled." Green intended the objects to become part of his family's Museum of the Bible, which is scheduled to open this November in Washington, D.C.
While improper labeling and paperwork sparked this case, the larger issue at play is the looting and selling of antiquities. When the story first broke, some people reacted by claiming that Hobby Lobby bought the objects from ISIS, but as the New York Times reports, that is not the case. The black market that the Green family bought their tablets and bullae from, however, is the same system from which ISIS profits from their looted antiquities.
For more information on this story and on the Museum of the Bible, go here. To read an essay on why this case against Hobby Lobby is important, go here.