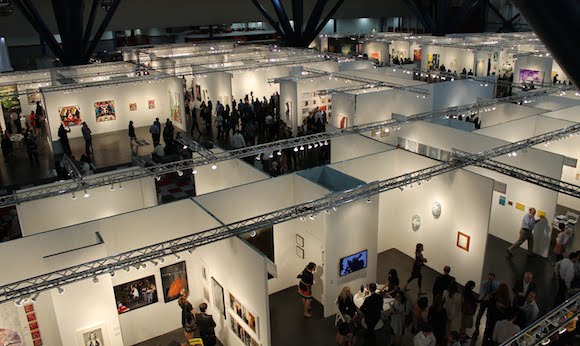 Though no official press release has gone out yet (still), the Texas Contemporary Art Fair in Houston, which opens in 15 days, has now added to its website a 'Galleries' section at the top, and on that list are 43 exhibitors, including ten Houston spaces (both for- and non-profit; most all familiar stalwarts of this fair). Last year there were 59 exhibitors in total.
A good smattering of New York, London, and Mexico galleries make an appearance this year as well (and this year continues the Fair's partnership with the Department of Cultural Affairs at The Mexican Consulate in Houston). This is the fair's sixth year, and once again it will be at the George R. Brown Convention Center, from September 29 through October 2.
This quietly appearing exhibitor information follows the press announcement only last week by the competing Houston Art Fair of its own… tight little list of exhibitors.
For more info on the Texas Contemporary Art Fair, go here. And here's the Fair's exhibitor list thus far:
ACA Galleries, New York
Alida Anderson Art Projects, Washington DC
Art Palace, Houston
Artspace111, Fort Worth
ArtStar, New York
AUREUS CONTEMPORARY, Providence
Barbara Davis Gallery, Houston
CAMH, Houston
Cardoza Fine Art, Houston
Catharine Clark Gallery, San Francisco
Cindy Lisica Gallery, Houston
David Shelton Gallery, Houston
Duane Reed Gallery, St. Louis
FIFI projects, Mexico City / San Pedro / Miami
Frederieke Taylor Gallery, New York
Galeria Enrique Guerrero, Mexico City
Galerie Nicolas Robert, Montréal
Gallery Poulsen, Copenhagen
Henrique Faria Fine Art, Buenos Aires / New York
Inman Gallery, Houston
John Martin Gallery, London
JONATHAN FERRARA GALLERY, New Orleans
josé garcía ,mx Mexico City
Joseph Gross Gallery, New York
La Colombe d'Or Gallery Houston
Laura Rathe Fine Art, Houston
Lulu, Mexico City
Maddox Gallery, London
Michele Mariaud Gallery, New York
Mindy Solomon Gallery, Miami
Moody Gallery, Houston
Morton Fine Art Washington, DC
Muriel Guépin Gallery, New York
Nil Gallery, Paris
Other Criteria, New York
Parallel Oaxaca, Oaxaca
Páramo, Guadalajara
Spinello Projects, Miami
SPONDER GALLERY, Miami
Tally Beck Contemporary, New York
Walker Waugh, Brooklyn
ZIEHERSMITH, New York
ZK Gallery, San Francisco