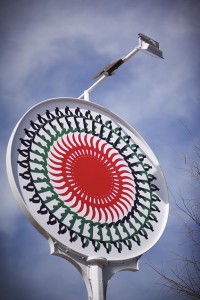 Mel Chin (Houston native and prolific artist) in his project currently on view at 516 Arts, a non-profit in Albuquerque, NM, is proposing a renewable energy plan based on solar energy, to be spun into a new kind of currency for a disenfranchised nomadic people of the Sahara called the Saharawi.
Stay with us. 516's group show, titled Knew Normal, revolves on ideas around climate and the environment and is part of 516's ongoing series HABITAT: Exploring Climate Change Through the Arts. The ever-conscientious Chin's installation in the show is called The Potential Project, and includes a model of a solar power station in Mijek, Western Sahara. The Saharawi invited Chin to help them problem solve, via helping them strategize a new currency for them to use to get some leverage in the world economy. And since sunlight is so abundant in that part of the world… .
This is part of the Chin's long legacy of ecology and community based proposals through his distinctive type of what we now think of as social practice. For more info on the complexities of the proposal go here, and for a critical take on the whole, please go here.