Last month I went to the opening for Artpace's first New Works series of the year (09.1
for those of you who love numerals), curated by Trevor Smith from the
Peabody Essex Museum. Not that it's a competition or anything, but the
premise of their series – one International artist, one national artist
and one Texan artist – makes it almost impossible not to compare and
contrast the relative merits of each artist's production over the
course of their residency in San Antonio. This is part 3 (read Part 1 here and Part 2 here) of 3.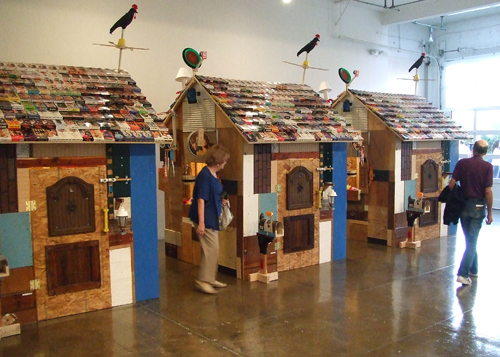 I think I enjoyed and was impressed by Sterling Allen's Housing Edition
the most. For his first foray into large-scale sculpture (as explained
in the gallery notes), Allen created "a constellation of three
identical miniature houses and a triptych titled Stillwater Shanty."
What isn't explained as well in the notes and the thing that really got
me, was how Allen covered his little houses in identical elements in
identical configurations: old VHS boxes of mainstream Hollywood movies like Father of the Bride or My Best Friend's Wedding, and old
records that are now more often found in thrift store bins than
turntables, mass produced plastic knick knacks from dollar stores and
other artifacts that for better or worse form a base level upon which
our ladder of conspicuous capitalism can rest on.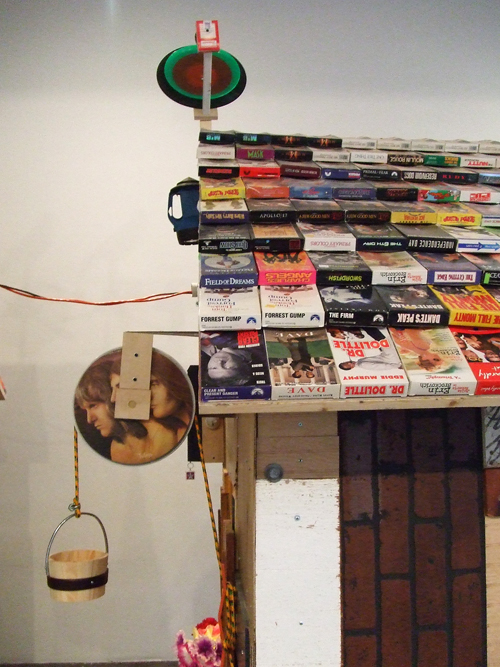 Every single piece of
old painted wood, Moonstruck box on the roof and plastic
collander is placed in the exact same spot in each of the three houses,
creating an "editioned" sculpture, where the elements, because of the
scars incurred by falling out of favor from the public's taste in
disposable cultural artifacts and works, form houses that in a history
of cultural artifacts, point to a specific ideal of what Americans were
told to aspire to. It's all flotsam and jetsam when we stop being
interested in Brendan Fraser's dealings with mummies, or Julia
Roberts's turn as a hooker with a heart of gold; just a bunch of
accumulated crap that clutters thrift stores and garage sales
everywhere.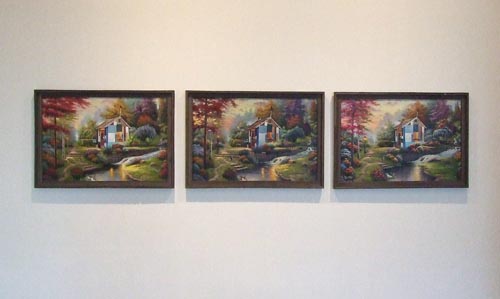 The paintings that make up Stillwater Shanty show three almost
identical images of the houses in the gallery in idyllic, Thomas
Kinkade-ish settings, seemingly implying that accepted cultural ideals
of what constitutes an ideal American living situation for most people
is a complete construct, more often than not fed to them through their
wholehearted, though more often than not unquestioned, participation in
the cultural hegemony of their times (and more often than not, made in
China). The Kinkade business sells a slightly less sensational brand of
idealism that perhaps Field Of Dreams does, but in the end, it's a similar conceit, a similar swindle.