Curator and recent mom Elizabeth Dunbar, in
a catalog essay
, describes
Arthouse at the Jones Center's
Rapture in Rupture
better than I ever
could:
"…we appear to be witnessing a resurgent strain of art making defined
by a rather ramshackle aesthetic along with a deliberate, even defiant
openness and resistance to easily digestible meaning. (…) These works
relate to each other in their resistance against formal or material
purity as well as an economy of means; instead, they are substantial,
messy, and abundant, bursting with detail and meaning, and sometimes
bordering on the obsessive."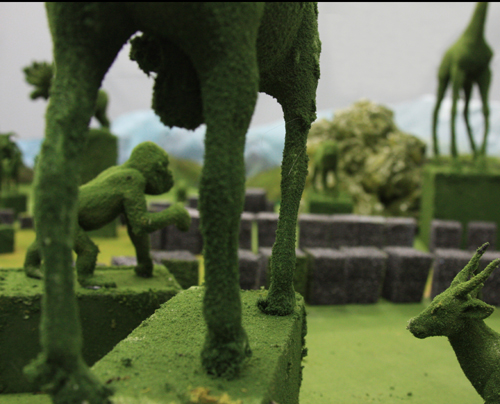 I didn't love this show. In fact I think I only liked one piece in it:
Lauren Kelley
's elegant and cinematic allegory
o
f dominance,
Wild Seed.
In
this short video an animal topiary is doused
with (primordial?) ooze that levels the proud animals. While a male
voice (that sounds a lot like
Serge Gainsbourg
) complains about the
weather being cold and drab, the giraffe topiary tells a melancholy
story (through subtitles) of losing one's place as the tallest one and
reminiscing about the good times. It's a big step forward for Kelley,
proving she's no one-trick pony. Can you tell I'm developing a huge art crush on her?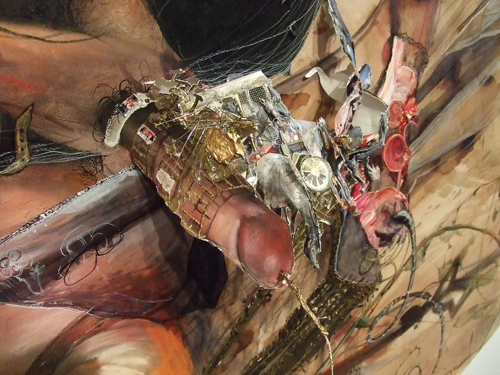 My dislike with the rest of the show was terribly personal: I have an
aesthetic aversion to messy art and lack of clear composition.
Shiri
Mordechay
's sprawling figures vying for attention,
the penises poking out, hair and string and hanging people were almost
unbearable to me. The muddy colors didn't help at all. It was like
half-chewed food
: bits and pieces all over, surrounded by browns and
yellows.
Nicolau Vergueiro
's patchworks were just as unpleasant to me.
I didn't undertand how the motley bits and pieces were supposed to
relate to each other or how the titles fit in. Like Mordechay's sprawl,
Vergueiro's "bargain-bin baroqueness" seemed equally
undigested/undigestible.
Mindy Shapero
's work was a little nicer to
look at, especially the sculptures. However, it left me with a weird
Dargeresque preciousness that I found hard to take.
Check out a podcast of Kelley and Mordechay speaking about their work on Arthouse's blog .
UPDATE: Read a review of the show by The Statesma's Jeanne Claire van Ryzin via XL
HERE
.