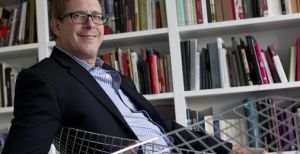 0. GLASSTIRE TALKS @ the TX Contemporary Art Fair
George R. Brown Convention Center, Houston
Sept. 6 & 7
Glasstire has organized three talks taking place at the art fair:
Hugh Forrest, Director of the SXSW Interactive Festival (11 a.m. Saturday, Sept .6)
Forrest will be giving away a free pass to the 2015 SXSW Festival to one lucky audience member!
How To Get Rid Of The Art You Don't Want Anymore (at 1 p.m. Saturday Sept 6)
You're out of room in your house, and you're not interested in paying for art storage, but your tastes have changed; what do you do? Moderated by Glasstire Senior Texas Editor Christina Rees.
American Tycoons: What They've Bought and Why (at 1:30, sunday, Sept 7)
Art consultants Julie Kinzelman and Sally Reynolds explore why corporations collect art and the role of the visionary CEO.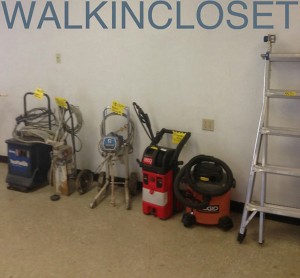 1. Ludwig Schwarz: Walkin Closet & Margaret Meehan: Paper Moon
Conduit Gallery, Dallas
Sept 6-Oct 4
Opens Saturday, Sept. 6, 6-8
Schwarz's is a story-show about Joaquin Klose, "a man of little means and a a fan of Little Feet," who invented WALKINCLOSET (The Game) on the eve of allegedly abandoning his family.
Meehan traces the link between link Coco Chanel and Frankenstein through painted and collaged Vogue advertisements on 19th century cabinet cards and ceramic golems.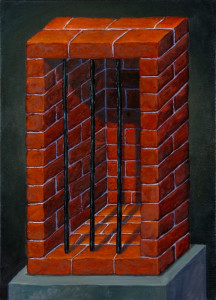 2. Seth Alverson: 09/05/14
Hello Project, Houston
September 5 – October 4
Opening: September 5, 7–10 pm
The much admired Houston painter's first solo show since 2011. Grim and deft, Alverson's grotesque paintings about self-containment are Hello Project's second highly anticipated show.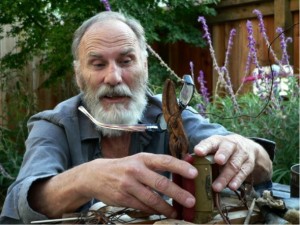 3. LOVE George Herms
Testsite, Austin
September 7 – October 19, 2014
Opening: September 7, 4–6 pm
Herms will conduct a screening and lecture at UT Austin (Art Building auditorium, room 1.102)
Artist talk at 4:30 pm.
Film: September 4, 2014 | 5–6:30 pm
Collages and sculpture by Beat-generation cult figure George Herms. who was included in the seminal MoMA exhibition The Art of Assemblage organized by William Seitz in New York in 1961. Each of Herms' works is hand-stamped with the letters "L O V E." Curated by Sarah Bancroft.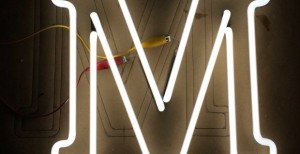 4. Francis Giampietro: …to die like starving wolves
BOX 13 ArtSpace, Houston
September 6 – October 18
Opening: September 6, 6–8 pm
Active in Dallas since graduating from the University of Houston, Giampietro returns to Houston, with pieces of conceptual Americana from Arlington, TX.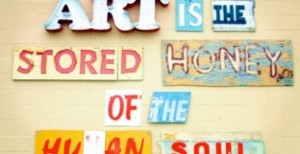 5. Gary Sweeney: Problem Child
Red Arrow Contemporary, Dallas
September 3 – October 18
Opening: September 6,  6–9 pm
Sweeney explores the human condition with witty texts that tends to trap the viewer like a fly in ointment. After his recent 40 year retrospective at Blue Star in San Antonio, we'll see if he's got any material left!