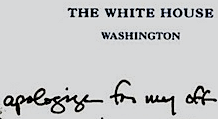 Like a lot of people who work in the arts, University of Texas Art History Professor Ann Collins Johns was a little perturbed at President Obama when he dissed art historians during a talk at a GE plant a few weeks ago. "I promise you, folks can make a lot more, potentially, with skilled manufacturing or the trades than they might with an art-history degree." Although he finished his statement with, "I love art history—I don't want to get a bunch e-mails from everybody," it was too late.
Johns got on the White House web site and defended her profession. She told Hyperallergic that she couldn't quite remember what she wrote ("I'm pretty sure that my email was not so much one of outrage at his statement, but rather a 'look at what we do well' statement."), but was totally surprised when she received a hand-written reply from the President a few days ago, which was published in today's Hyperallergic.
Let me apologize for my off-the-cuff remarks. I was making a point about the jobs market, not the value of art history. As it so happens, art history was one of my favorite subjects in high school, and it has helped me take in a great deal of joy in my life that I might otherwise have missed.
So please pass on my apology for the glib remark to the entire department, and understand that I was trying to encourage young people who may not be predisposed to a four year college experience to be open to technical training that can lead them to an honorable career.
Sincerely,
Barack Obama