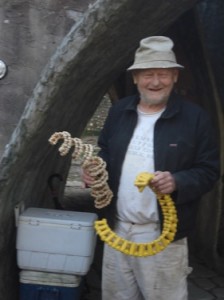 Vidor sculptor Charlie Stagg died yesterday at UTMB in Galveston from burns suffered when he fell into an open fire pit at his eccentric folk-art style glass bottle and cement home and studio in the woods near Vidor, TX. He was 72.
One of East Texas' best kept secrets, Stagg began the free-range building project, the A. V. Stagg Art Studio and Wildlife Preserve, his major work, in 1981, on family farmland. Although he lived alone with cats, dogs, goats and king snakes, but no air conditioning, he welcomed frequent visitors to his visionary environment, where he continued to carve and assemble works from pine branches and found objects which have been featured in many shows across the country.
Despite his outsider lifestyle, Stagg was an academically trained artist with a degree from the Tyler School of Art who chose to isolate and immerse himself in his work, free from  distractions and pressures.