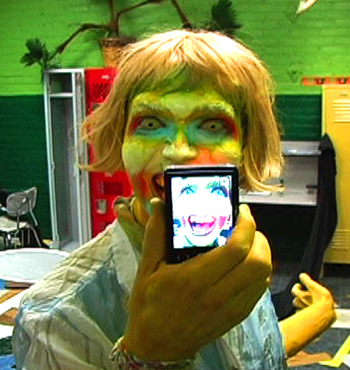 Let's be honest. The main attraction at
Okay Mountain
's
We've Got Tissues
, is
Ryan
Trecartin's
brilliant
I-Be Area
(watch a heavily compressed version
here
). The objects, sculptures and paintings by collaborators
Jesse

Greenberg
,
Lizzie Fitch and Brian

Mckelligott
that round out the show suffer greatly from having to share a space with
Trecartin's
video. It dominates the gallery space as video projections often do. It doesn't help that I-Be Area is
so fucking hypnotic. You can't look away. And when you do, as a friend
mentioned, you feel lonely in the space. The explosion of energy and
stylized language and colors and costumes and movements and children
and wigs and face paint and so on is just too much.
Greenberg
mentioned during an artist talk that for their collaborative shows
Trecartin
worked like a film director or producer, directing people in their work
and offering ideas for what they should do. And it shows. Despite
having their own (often overlapping) aesthetic and conceptual
interests,
Greenberg
, Fitch and
Mckelligott's
work looks like what it often is, supporting material for
Trecartin's
vision, like props from outtakes or supporting ephemera for a much grander and much more developed production.
We've Got Tissues is full of unpolished knick-knacks that come a little
too close to Outsider Art territory. That's not necessarily a bad thing
but not necessarily my thing.
What Greenberg, Fitch and Mckelligott's work seems to have in common is
a folk art aesthetic that Greenberg mentioned can probably be traced
back to their experiences building Mardi Gras floats in New Orleans pre-Katrina. Here are some preview JPGs I snapped at the
show: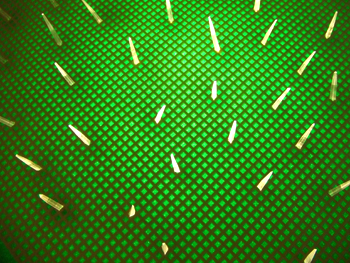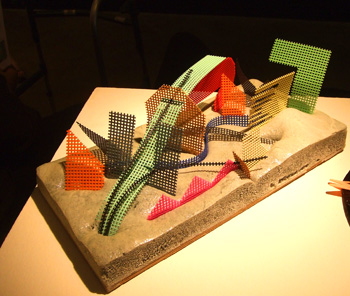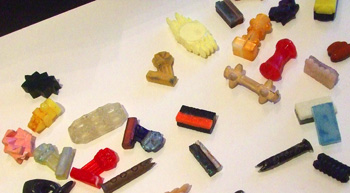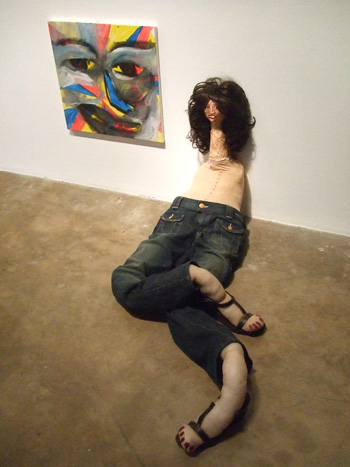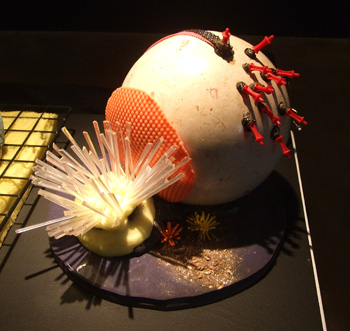 It's an interesting case study in the perils and benefits of
collaborative work and the (t)issues that come up when one of the
members has such a distinct and powerful vision. And it shouldn't be missed, even if the main reason to go is to experience an uncompressed large projection of I-Be Area.