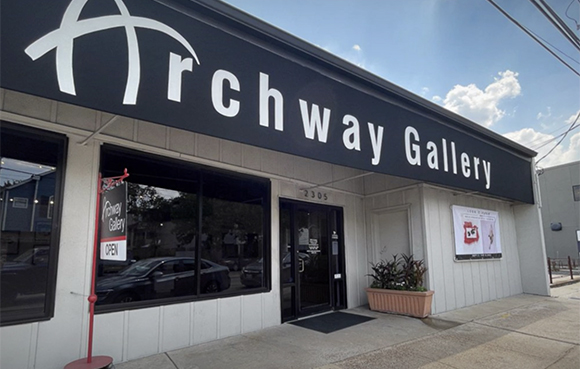 Note: the following is part of Glasstire's series of short videos, Five-Minute Tours, for which commercial galleries, museums, nonprofits and artist-run spaces across the state of Texas send us video walk-throughs of their current exhibitions. Let's get your show in front of an audience.
See other Five-Minute Tours here.
Look Closer: Featuring New Works by Denise Giordano, and Guest Artist Fatima Donaldson at Archway Gallery, Houston. Dates: September 2 – October 5, 2023.
Via the gallery:
"This collaborative exhibition between Archway Gallery artist Denise Giordano and guest artist Fatima Donaldson concludes a journey initially inspired by a Georgia O'Keeffe Exhibition in Houston in 2021. Enticed by O'Keeffe's statement, 'To see takes time,' the duo embarked on an investigative road trip to Santa Fe, in order to look closer at O'Keeffe's work, philosophy, and life. It was during this study that they were individually inspired to look inwardly at themselves and their personal artistic journeys.
Despite being an exhibition fueled by two very different voices, Look Closer highlights the similar life ideologies shared by Giordano and Donaldson. In their reminiscent, ethereal, dreamlike visuals, we are invited to flit between our conscious and subconscious, whilst cherishing and embracing the fleeting moments, as well as the passing of time. This exhibition exudes an elegant sophistication; it is delicate, finite, and feminine, with a fragility which suggests that we examine the fragments of our lives which have made lasting impressions. In addition to their solo pieces, this exhibition includes a series of collaborative works which blend these two unique voices and their individual techniques."