Update on Oct 31, 2018: Winston Contemporary Art will combine the two below-mentioned events into one event at the gallery on Nov. 3. Tickets will be sold at the door, and all tickets sold for Friday will be honored. (Some hyperlinks and event information in the original article have been removed to reflect this update.)
This weekend, Houston gallery Winston Contemporary Art will present two special events. On Friday at MATCH, there will be a rare, live performance of the band Gray, formed by Jean-Michel Basquiat and Michael Holman in the late 1970s. On Saturday evening at Winston Contemporary Art's gallery, there will be a unique presentation by Michael Holman tracing his experiences with New York's downtown art scene and early hip-hop culture in the 1980s. 
In my recent conversation with Holman, he told me that he wasn't exposed to a lot of art as a kid growing up on various overseas military bases in the 1960s. But he was drawing heavily on his imagination. After each of his family's frequent moves, Holman would plunder the bounty of large cardboard boxes and packing tape to construct labyrinthine structures inside the family's new quarters. "My little brother and I travelled inside these worlds with a flashlight. That's an example of how we would turn the transient lifestyle into something creative and positive, something that would feed our imagination." This early attraction to alternate worlds, reconstructed detritus, and communal wonder seems like a pretty perfect foundation for what was to come in Holman's journey as an artist and creative collaborator and organizer in the coming decades.
In the mid-1970s, Holman was given a crash course in ambitious, DIY collaboration while he was touring as part of the wild stage shows of San Francisco-based band the Tubes. He was also introduced to the hotbed of New York's art and music scenes during that band's tours. These days, it's difficult to remember a broke and crumbling New York City with rents under a hundred bucks, or to imagine the wild, creative fires and unlikely cross-pollinations born of the tensions and freedoms of that city's lawless collage. Holman was fascinated by this environment. "If you said you were an artist, you were an artist," he recalls. "New York had this do-it-yourself mentality, where if you were smart enough and charming enough, you could get your thing going. No one was going to ask if you have credentials. New York was open for anything." 
Holman moved from San Francisco to lower Manhattan in 1978. In the same year, he helped to organize what would turn out to be an important event, both in his life and in the shifting cultural landscape of the city. The recent California transport, British artist Stan Peskett, and New York graffiti promoter Fab 5 Freddy concocted an event to connect uptown graffiti artists with the downtown art scene. The legendary Canal Zone party took place in Peskett's large Canal Street loft space and was the first time street artists such as Lee Quiñones (Wild Style) rubbed shoulders with downtown artists and gallery owners. This event also saw the unplanned public emergence of Jean-Michel Basquiat — then an unknown teenage artist who'd been scrawling evocative, anonymous street poetry on area walls with the tag SAMO. It was on that night 40 years ago that Holman and Basquiat became fast friends and decided to form an unconventional band — first called Test Pattern, and then renamed Gray by Basquiat, likely a nod to Gray's Anatomy.
Performing between 1979 and '81 at venues such as The Mudd Club, CBGB, Squat Theater, and Hurrah's, Gray was an outlier even among the boundary-pushing groups of that vibrant, downtown scene. The group blended sparse rhythms, textural sounds, jazzy improvisations, and spoken-word poetry. They sometimes incorporated sculptural set elements. Basquiat played clarinet, synthesizer, and various hybrid instruments, as well as creating the band's flyers. He described Gray's sound as "…incomplete, abrasive, and oddly beautiful." Glenn O'Brien described them at the time as "sort of an easy listening bebop industrial sound effects lounge ensemble," later writing that Gray approached music-making "the way one would pick up a strange machine and try to intuit its operation and function." I asked Holman about the group's creative process and he echoed that idea. "We were all iconoclasts… . The first step of creating music in Gray was: You can't be a musician. You can't approach music in a formal, classic way. You had to find unconventional, deconstructivist methods. That was the philosophy." He also emphasized that the group's atmospheric music relied as much on listening intently and leaving space for silence and subtlety as it did on playing. 
Gray reunited to perform at Basquiat's memorial in 1988, and then again in the '90s to appear in Julien Schnabel's feature film biopic Basquiat, and a few other special appearances. With the current duo line-up of Michael Holman and original member Nicholas Taylor (aka DJ High Priest), Gray has performed a handful of times in recent years, including live shows at the New Museum, Corcoran Gallery of Art, Parrish Museum, and the Brooklyn Academy of Music with Questlove of The Roots. The upcoming live performance at Houston's MATCH this Friday will incorporate all kinds of sampled sound recordings and video footage — some of that material from early-era Gray. Of course, this won't be like seeing Gray with Basquiat at the Mudd Club circa 1980. But it is an extremely rare opportunity to experience the group's continued collaborative endeavor — born of that time and place, and catalyzed by the artistic impulses of their famous friend and bandmate.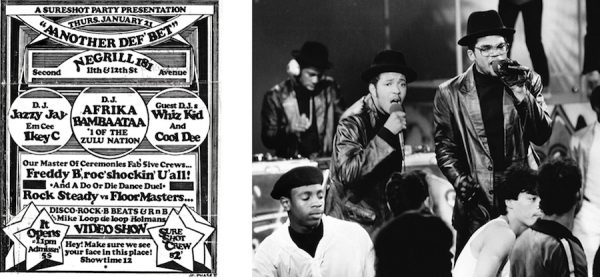 On Saturday evening, Winston Contemporary Art will present Confessions of a Subculturist with Michael Holman in their Bartlett Street gallery space. Something between spoken-word performance and artist talk, Holman will relate stories of transformative moments along his creative journey. Beyond his experiences with the Tubes and playing with Gray, his presentation will delve into his activities as an early hip-hop impresario and his intersections with early luminaries of hip-hop culture (Afrika Bambaataa, Futura, Run DMC, New York City Breakers) as well as his involvement in a range of media from experimental work to features to children's shows. Alongside his stories of unique experiences and creative collaborations, he'll incorporate related music, images, and rarely seen video footage. 
Both Gray's audiovisual performance and Holman's presentation are presented by Winston Contemporary Art, and are held in conjunction with the opening of the exhibition Reflections: Hip Hop and Subculture. 

Gray, and Confessions of a Subculturist with Michael Holman: Saturday, November 3, 7-9PM, at Winston Contemporary Art, Houston. Info and tickets here.