San Antonio artist Stuart Allen has been selected to curate the art program of HemisFair Park's future "PlayEscape" area, reports Benjamin Olivo of the San Antonio Express-News. Allen, who has worked on other San Antonio public art projects, presented to the Public Art Board on Monday morning. Although the preference for project artists will be local, Allen showed the board works by Jenny Holzer, Belgian artist Mehmet Uysal, and large-scale graffiti art to introduce them to a variety of influences and artistic possibilities.
Since HemisFair Park is what is left of the 1968 San Antonio World's Fair, Allen may also wish to consider introducing the psychedelically-induced aesthetic of the 1969 children's TV show H.R. Pufnstuf. That incredibly strange show came directly from HemisFair 1968's theme character—a dragon named Luther, created by Sid and Marty Krofft for the fair's Coca Cola pavilion.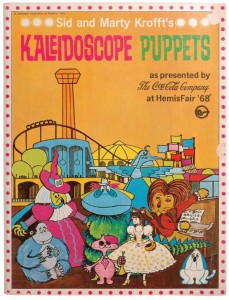 The Hemisfair Park Area Redevelopment Corporation's website touts its dual slogan: "Celebrating Our History. Building Our Future." The Riverwalk can celebrate its history and build its future by settling, once and for all, the ongoing battle between Witchiepoo and Pufnstuf, the mayor of Living Island.
Construction on HemisFair's "PlayEscape" will begin in June and is set to open to the public in May 2015. Olivo reports that Allen will be working with a budget of $250,000—good for up to eight installations. Specific artists and their concepts will be brought back to the Art Board in the coming months.