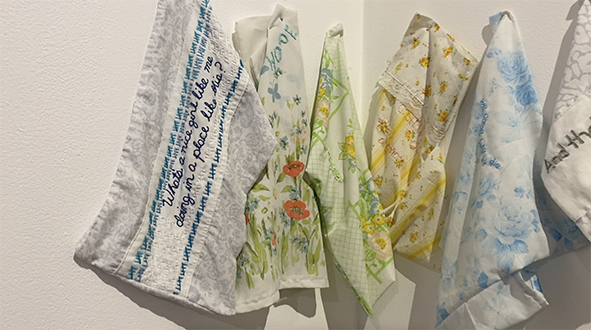 Note: the following is part of Glasstire's series of short videos, Five-Minute Tours, for which commercial galleries, museums, nonprofits and artist-run spaces across the state of Texas send us video walk-throughs of their current exhibitions. This will continue while the coronavirus situation hinders public access to exhibitions. Let's get your show in front of an audience.
See other Five-Minute Tours here.
Art Activating Hope Collaborative: Institutionalized Loneliness at Russell Hill Rogers Gallery, San Antonio. Dates: April 27 – May 13, 2023. A UTSA MFA Exhibition.
Via AAH:
"The Art Activating Hope Collaborative is a community-based art initiative promoting effective social change. The Residents project reveals the misconceptions about aging and life in assisted living. The work approaches some of the situations residents face and confronts personal concerns with humor and a narrative that gives them a voice. The Beading Behind Bars project fosters well-being and creativity with inmates in prison. The Peyote beading keeps their minds at ease and their hands busy. The projects deal with time, memory, loss, while sharing stories and personal accounts about these institutions. AAH's mission is to enjoy time together, teach others to be less judgmental, and change our relationship with discomfort."